Southwest Missouri has quite the collection of barbecue restaurants, each offering a unique take on the classic meal from Texas and St. Louis styles to Memphis and Kansas City barbecue. Springfield and the surrounding area have a barbecue style for everyone to get that finger-licking, sauce-covered, delectable meal they enjoy.
Gettin' Basted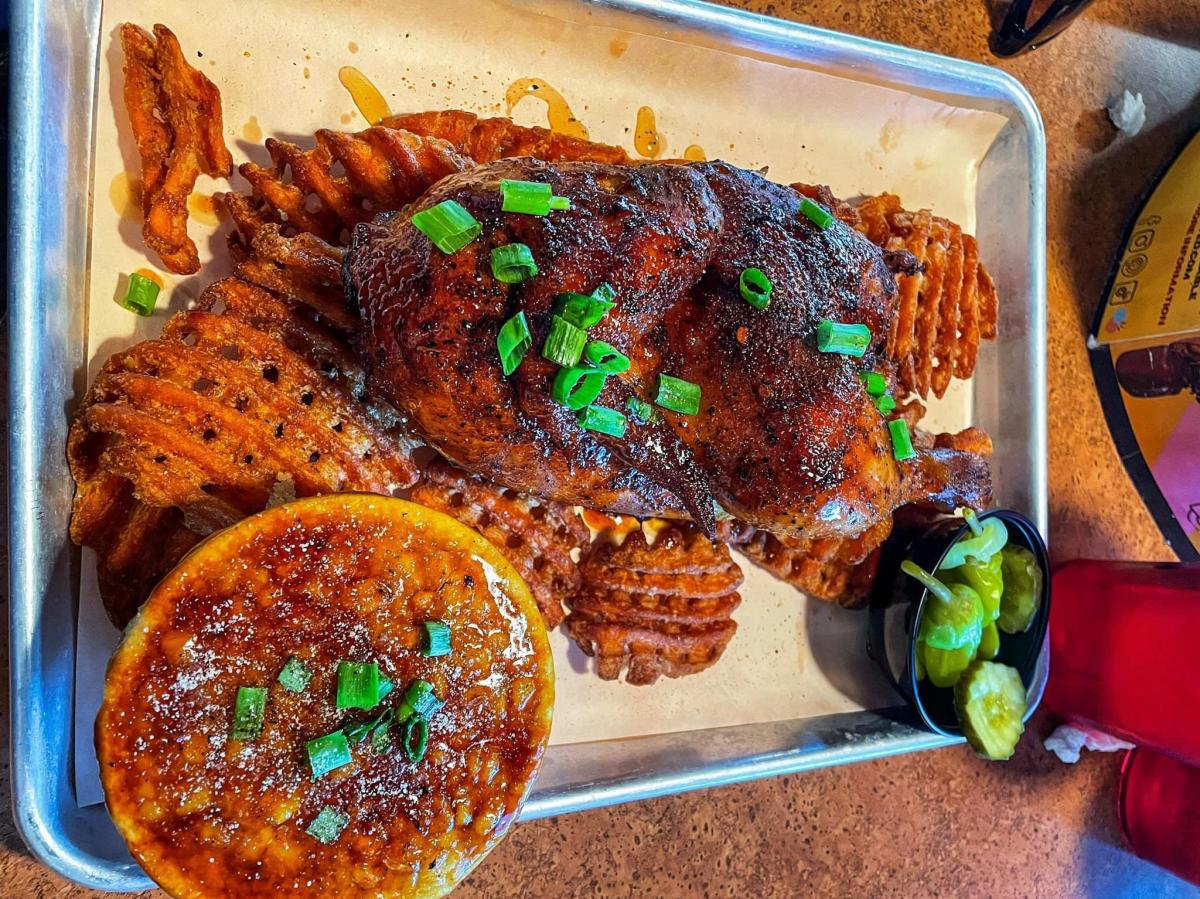 With at least 50 grand championships under their belt, Gettin' Basted has shown that their hot and fast, Ozarks barbecue is here to knock your socks off. Their menu is fully loaded with Wagyu beef burgers, smoked bologna, a pitmaster salad with barbecue ranch, and some awesome pimento cheese served with wonton chips. Can't decide what smoked meats you want to try? Order the judge's plate that comes with brisket, pulled pork, ribs, chicken, sausage, and two large sides.
Address: 3242 S. Stewart Ave., Springfield
Address: 606 W. Mt. Vernon St., Nixa
Address: 2845 W. 76 Country Blvd., Branson
City Butcher
Texas-style barbecue is the name of the game at City Butcher. City Butcher has been feeding hungry, barbecue-loving bellies since 2014. Not only can you order great barbecue by the pound, but they have specialty sandwiches that can please just about anyone. The pitmaster's duo sandwich is both brisket and pork belly, or you can go big and order the City Smokestack. The City Smokestack is premium brisket, pulled pork, pork belly, and your choice of either Austin andouille, a Texas hot link, or my favorite, the jalapeno cheddar sausage, all on a bun. Add on a side of jalapeno cheesy corn or some smokehouse beans for a complete balanced meal.
Address: 3650 S. Campbell Ave., Springfield 
Smokin' Bob's
Smokin' Bob's takes the smoking game seriously. Not only are they smoking the classics like pulled pork and brisket, but the sides are so good that you could make an entire meal out of them. Don't get me wrong, I love all the smoked meats on their menu, but if you put that tray in front of me filled with smoked macaroni and cheese, smoked potato salad and smoked cheesy corn, I wouldn't complain one bit.
Address: 3309 E. Sunshine St., Springfield 
Address: 2100 W. Republic Road #100, Springfield
Buckingham's Smokehouse Bar-B-Q
Buckingham's has been a place that I have been visiting since I was a kid. Walking in and smelling the hickory smoke and your mouth starts to water. The menu item that never steered me wrong was the smokehouse stuffed potato. A giant baked potato stuffed with beef brisket, pulled pork, pit beans and horseradish coleslaw. I never thought that a loaded baked potato could taste so good.
Address: 2002 S. Campbell Ave., Springfield 
Sugarfire Smokehouse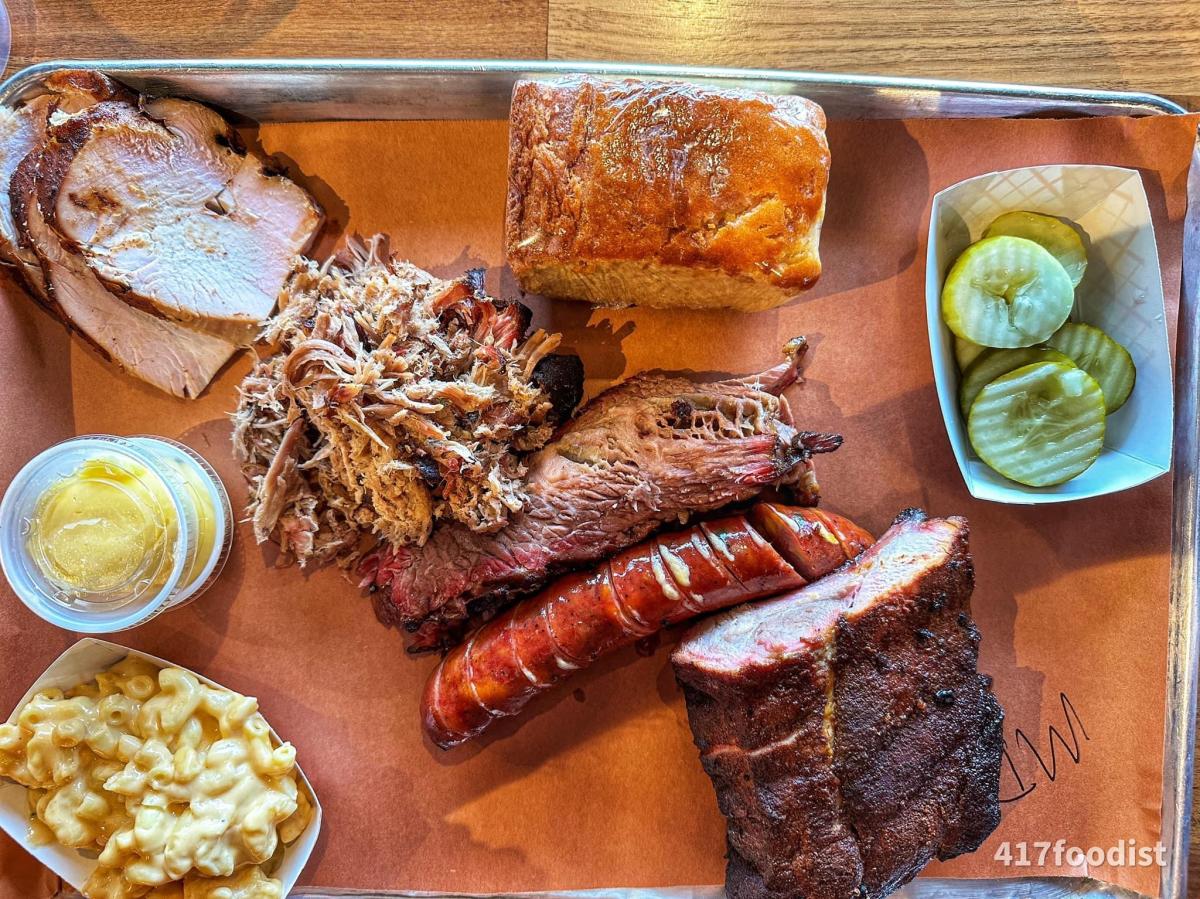 Prepare your brain for razzle-dazzle when you walk into Sugarfire Smokehouse in Springfield. Sugarfire has mastered the art of the daily special, with their mouth-watering creations that they change on the daily. Pick up an order of their pork belly hushpuppies served with jalapeno jelly or even the smoked fried artichokes with lemon aioli. Sample their seven barbecue sauces, especially the honey badger and coffee barbecue sauce. Order the classics or try one of their specialties like the brisket cheesesteak or the smoked portobello sandwich. Sugarfire has become an instant classic in Springfield, for all your barbecue cravings.
Address: 1730 E. Republic Road, Springfield
Whole Hog Café
Whole Hog Café is known for serving its award-winning, Memphis-style barbecue in Springfield since 2009. They have a great selection of smoked ribs and pork loin, with seven different barbecue sauces for you to smother their delicious smoked meats in. While they are killing it in the smoked meat department, one of my favorite things to always order when I go, is the burnt end cheesy corn and the potato salad. If you love wings, you can order smoked chicken wings, anywhere from five to 75 wings! 
Address: 224 W. Sunshine St., Springfield
Address: 2731 N. Glenstone Ave., Springfield
Crosstown BBQ & Subs
When it comes to well-known barbecue in the city of Springfield, one of the first places that come to mind is Crosstown BBQ. The third-generation-owned barbecue restaurant has been serving the folks of Springfield since 1970, and we still can't get enough Crosstown in our diets today! The famous bluto sandwich comes fully loaded with slicked smoked brisket, a hot link, and their regular or spicy barbecue sauce. The cooley is one of my favorites: smoked chopped pork, topped with melted cheddar cheese and fresh coleslaw.
Address: 1331 E. Division St., Springfield 
Missouri Mikes BBQ & More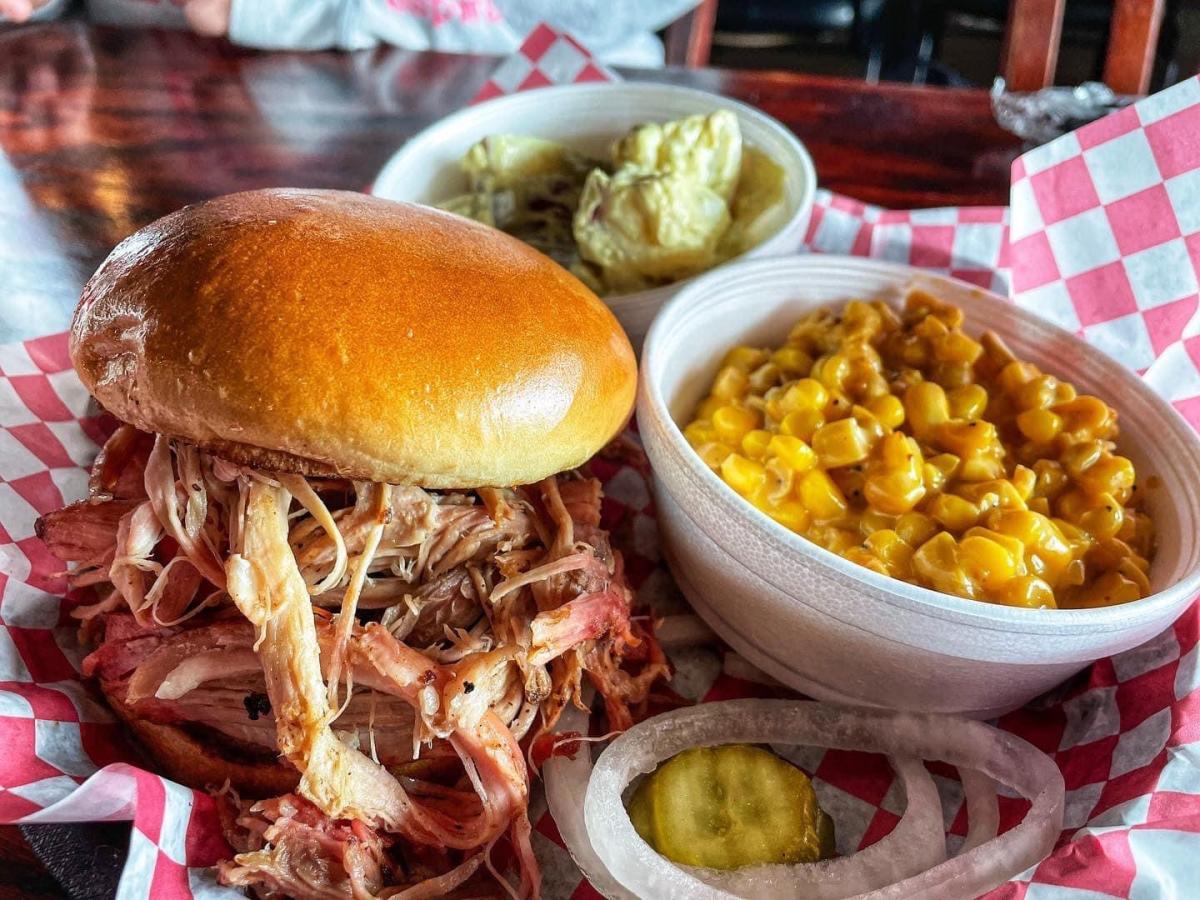 What started off as slinging tasty barbecue from a food truck, has now turned into two brick and mortar locations creating even more delicious barbecue than you can shake a stick at. Missouri Mikes BBQ & More is serving smoked brisket, chicken, and tri-tip, just to name a few. Not only are they serving great barbecue, but they are also known for the notorious menu item named that effing burrito. The burrito is a 14-inch burrito shell filled with pulled pork and macaroni and cheese. Be prepared to either take a nap or step up your cardio game after devouring this barbecue burrito wonder.
Address: 2833 W. Chestnut Expy., Springfield
Pappy's Place
Pappy's Place has been serving Springfield barbecue since 1971, but the location itself has been around since 1903. The iconic location has a menu that includes smoked spareribs, ham, beef and pork. Looking to feed the whole family? Pick up the Pappy's pig out that is a whole rack of ribs and two sides, or maybe the beef up that comes with a pound of smoked beef with bread and two sides.
Address: 943 N. Main Ave., Springfield
Skinners Ribs & BBQ
I have eaten so much great barbecue from Skinner's BBQ over the last 15 years, that I should be an honorary member of the Skinner's team. My work has been catering in Skinner's ever since I started there, and it never gets old. They are a food truck that opened in 1997 and have been serving great barbecue ever since. It's not just tasty meats that have made them famous. It's also the dessert selection that the public also love. They make excellent key lime and chocolate pudding pies that you can order in full-sized or individual mini pies. They also have chocolate and peanut butter, vanilla with raspberry buttercream cupcakes. Skinner's is only open from around March to the end of October each year, so watch their social media pages to see when this year's grand opening is.
Address: US-60 Hwy & S. Farm Road 241, Rogersville
Brickstreet BBQ & Subs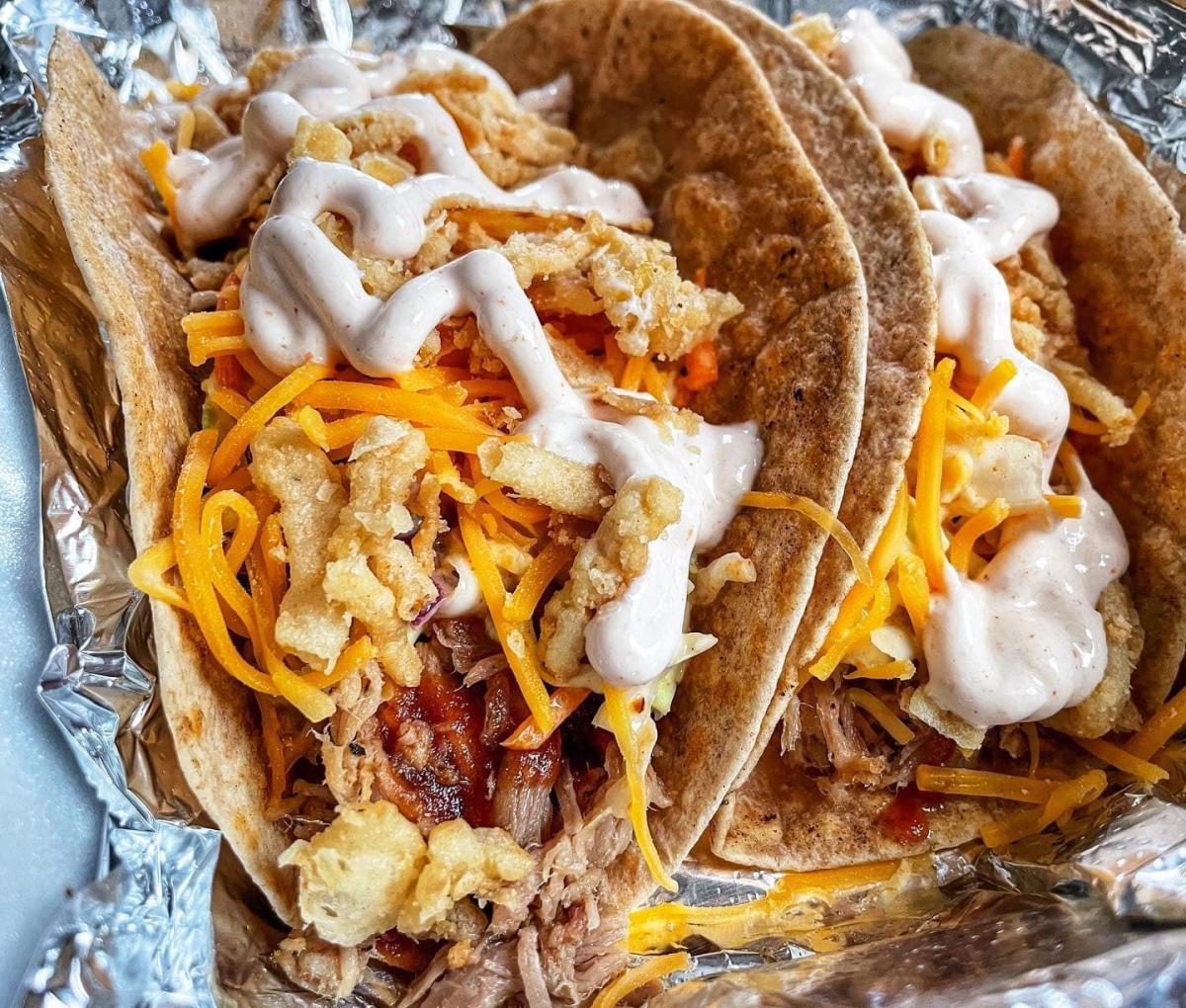 Located just off the square in Ozark, Brickstreet BBQ is a wonderful, family-owned restaurant serving hungry patrons some fantastic culinary creations. You can pick up their barbecue pulled pork tacos or even the Ozark Cuban, which is filled with pulled pork, ham, melted cheese, mustard and pickles. They even have keto nachos, using seasoned pork rinds instead of the standard chips! Brickstreet BBQ is great for grabbing lunch or an early dinner with friends and family.
Address: 206 N. 1st. St., Ozark
Big D's BBQ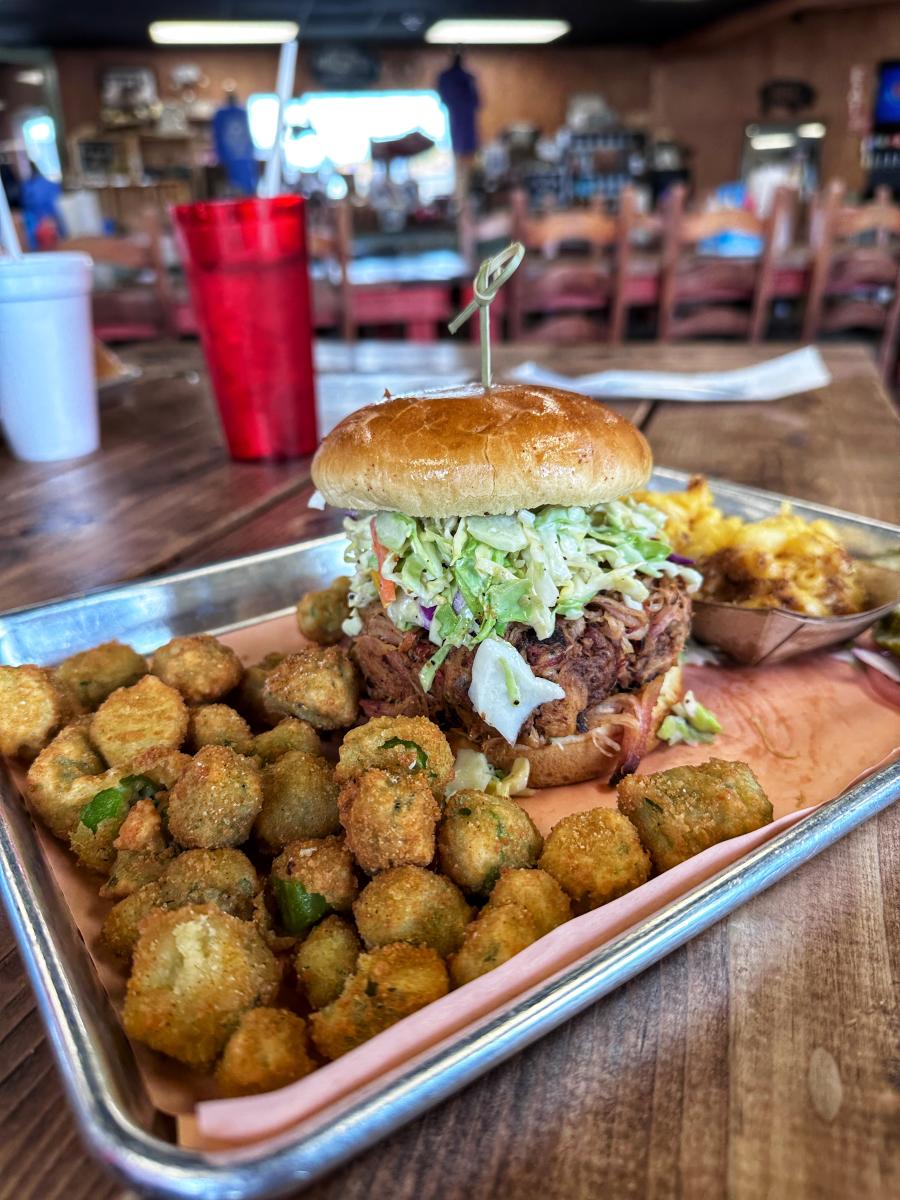 Big D's BBQ has a menu filled with tasty chicken, brisket and burnt ends. It's the menu items that you don't traditionally find at other BBQ places that I enjoy. The pork egg rolls with hot sauce and the salted caramel banana pudding are among my favorites. They also do many off-menu specials that are amazing. The beefychanga is their spin on a chimichanga, that is filled with smoked brisket and mac and cheese and then topped with smoked queso, pit beans and drizzled with their Big D's lil sweetie barbecue sauce.
Address: 1550 State Hwy 248, Branson