Worlds of change are seen between the bustling four-way stop in Ash Grove and the Nathan and Olive Boone Homestead State Historic Site, a quiet, secluded patch of 370 acres where an Ozarks pioneer and his family arrived the decade after Missouri became a state. 
Nathan Boone was the son of legendary frontiersman Daniel Boone. Today, his small, saddle-bag-style home still stands as part of the state historic site, which gives visitors a look into what life was like for some Ozarkers in the early 1800s. 
It also commemorates the life of the younger Boone, who was an early Missouri leader, surveyor, soldier and businessman – the latter which includes his role as a founder of Boone's Lick, a salt production operation in mid-Missouri that is also a state historic site. 
"When you think of Missouri as the Gateway to the West and the Arch, and people coming through and into Missouri as the frontier – Nathan is really more prominent, should be more prominent, than Daniel Boone is," says Michael Busekrus, superintendent of the Greene County historic site. "But everyone remembers Daniel Boone, and Nathan is kind of lost to history."
That site shows shifts from town to country, but also between centuries in literal and figurative ways. Back when the Boones arrived, that busy four-way stop was nearly part of their original homestead. 
"I think the enduring legacy of Boone is that he inspired this local community," says Busekrus, who notes that locals preserved the Boones' story for years as they advocated for greater recognition for their founding family. "It's almost 60 years that the community wanted this to become a historic site."
The Boones arrive in today's Missouri 
Nathan and Olive Boone arrived in Missouri before it was part of the United States. 
The land was still under foreign control when they arrived in 1799 and settled in St. Charles County. After purchasing more than 600 acres near the Femme Osage Creek, they proceeded to build an elaborate, two-story rock house (that still stands today). 
The first third of the 19th century was a busy time for Boone, work that is reflected in his Greene County homestead's application for the National Register of Historic Places: 
"While living in the St. Charles area (1799-1837), Nathan Boone manufactured salt at Boonslick 
in Howard County with his brother Daniel Morgan Boone from 1807-1815; served as a captain of a company of rangers during the War of 1812; and traveled with William Clark in 1808 to the point above the Missouri River at which Fort Osage was constructed for the protection and trading rights of the Osage Indian tribes. Boone acted as messenger to summon the Big and Little Osage tribes to the newly constructed fort which served as the westernmost outpost of the United States Government until 1819."
Later, Boone was a delegate who helped create the Missouri state constitution, and also worked as a land surveyor.
It was the latter work – and the sale of his home and land to satisfy a debt incurred while serving as a bondsman for a county official who absconded with county funds  – that led the family to southwest Missouri. While his sons may have come a bit earlier, 1837 is the date referenced when the family officially built the cabin, which has been described as the aforementioned "saddle bag" or "dogtrot" design, which features two rooms originally separated by a breezeway.
"The western part of Greene County was explored at an early day by Nathan Boone," noted the Springfield Leader in 1927. "He was pleased with the appearance of the west part of Greene County and selected some land in the neighborhood of Ash Grove and sent out his son to take pre-emption rights. Nathan Boone located, in the heart of Ash Grove, a large grove of timber composed principally of walnut and ash and receiving its name from the predominance of ash."
Portraits of the Boones sit on the mantle in the couple's historic former home.
For many years, patriarch Boone was not often at the homestead. Instead, it was his wife who managed the farm on a day-to-day basis, which at one time grew to 1,200 acres. 
Part of that work was overseeing individuals who did not come to the region by choice. A group of enslaved people were also part of the Boones' entourage, and much of the homestead's development was by their hands. 
"They always had enslaved individuals with them," says Holly Welch, historic site specialist at the Boone homestead, who says up to 15 enslaved people were owned by the Boones.
"They were essential to the operation of this place," she continues. "They had 200 acres of land in cultivation, and they could not have done that without the enslaved individuals' labor. They also had horses; at the time of Nathan's death, they had 24, which is more than anybody would need to run a farm. So that just says that they were selling horses, they were breeding them. They would have had to have an enslaved individual skilled in handling horses, raising them, grooming them, that kind of stuff, so that they were ready to go to market. 
"They had oxen that plowed the fields. They would have had to have an enslaved individual skilled in training the oxen from when they were young, so the oxen could be yoked together and run a plow. And those individuals would have remained with the teams. If they would have leased out the teams of oxen to other farmers, they most likely leased out the enslaved as well to go with them."
Emerging as a historic site
Boone died in 1856; Olive Boone followed two years later. With many descendants – the couple was married for 57 years and had 14 children – their memories were not removed. 
But some may never be known, as their slaves were sold on the front porch of the house in 1857.
Even at the turn of the 20th century, their presence was close enough that the Boones' youngest child, Mary Hosman, was still alive in 1914 and lived just a mile from the home place. That year, she was the focus of a field trip from the Springfield Chapter of the Daughters of 1812, the Ash Grove mayor and the city attorney. 
"The house is strongly built of logs, now weatherboarded, and consists of three large rooms and central hall below, with stairway leading to attic rooms above," noted the Springfield Republican's pages about the group's visit.
"Immense stone chimneys stand at each end of the house and a wide porch shades the east side. With feelings of veneration, we stepped into this old house, so enduring, so full of memories of 77 years of usage and still doing good service as a dwelling place. A peep into the huge old fireplaces brought to mind scenes of 'Auld Lang Syne' on a winter's night, with storms raging without, but warmth and joy within, and the revelry and might of those long since departed." 
The next year, the Mrs. J.B. Easley who wrote of the group's visit to the Boone homestead was also part of a ceremony in St. Louis to dedicate a bronze allegorical tablet to Missourians who enlisted in 1812 to fight England. 
"On the tablet will be the name of Nathan Boone, a son of Daniel Boone, and the man for whom Boone township of Greene was named," the Republican noted. "Mrs. J.B. Easley, who told of the unveiling of the monument, read sketches from the life of Boone, furnished her by Mrs. Mary Hosman, the only living daughter of Nathan Boone." 
But those memories were fading fast, and newspaper accounts make the Boones seem like both common knowledge and a forgotten memory. 
Hosman died in 1915, and by the next decade a news article noted that the Boones' graves "used to be visited by many people. As time goes on, it is gradually passing out of mind that the Boone family had anything to do with the early history of Greene county."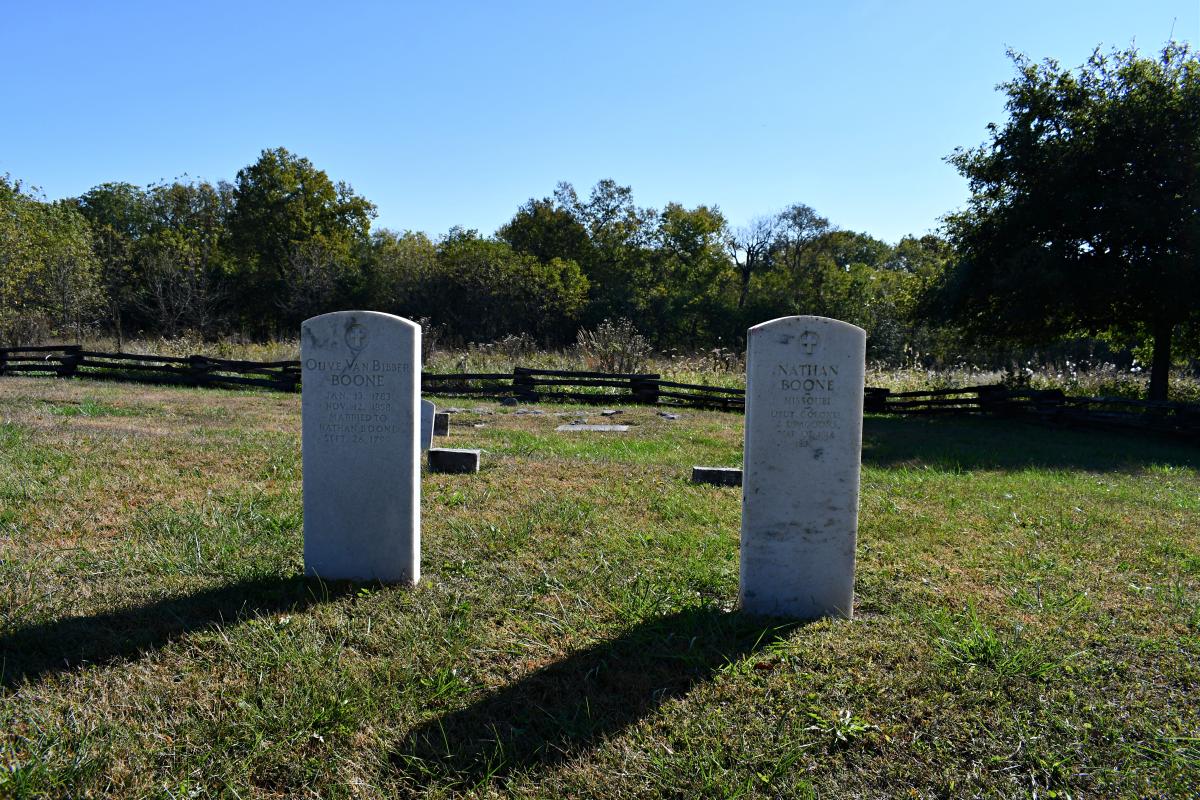 Nathan and Olive Boone's graves are two of several in a family plot at their historic homestead.
Advocacy continues
Shortly thereafter, that predicament found at least one advocate through a young newspaper reporter named Lucile Morris Upton.
Upton later became a legendary figure in Springfield's newspaper business. She grew up in Dadeville, a community in Dade County; worked as a teacher; and began a career in journalist in Colorado before starting with Springfield newspapers in 1925.
Although the exact impetus is unclear, perhaps family connections and a love of history helped foster a sense that Nathan Boone had been overlooked in the pages of record.
"Stories about Nathan and his famous father were part of Lucile's childhood and, as with the Bald Knobbers, her return to the Ozarks piqued her interest in knowing more," writes Susan Croce Kelly in "Newspaperwoman of the Ozarks," a book published in 2023 about Upton. "And as she learned more, she became convinced that Nathan's service to the state made him far more important to Missourians than Daniel, but that few people realized this. As a history-focused newspaperwoman, she set out to change this."  
In 1931, a six-part series she penned about Boone hit the pages of the Sunday News and Leader, and the weekday Springfield Leader. The pieces ran consecutively in the paper starting on Sunday, Aug. 30, and was promoted as "the story of a neglected hero." 
The series didn't result in the Boone homestead being protected – at least not immediately – but it was one step of several throughout the 20th century to bring awareness to the property and Boone's contributions. 
The same month Upton's series concluded in 1931, the American Legion post in Ash Grove petitioned the Missouri Legislature to purchase the land for use as a state park.  
"The homesite would make an attractive park. It is on low, rolling hill land," noted the Leader in an article about the effort. "Much timber and springs make it particularly pleasant. The house has been remodeled somewhat, but easily could be restored to its earlier appearance. The old Boone burying ground has become a jumble of unmarked stones, but there still are persons who know the location of the graves and could help in marking them correctly." 
That didn't happen, although the Boones' graves were seemingly marked in 1932: 
"Greene County's distinguished pioneer citizen is buried beside his wife in a little deserted 'burying ground' about two miles north of Ash Grove," noted the Springfield Daily News. "The graves have been located by R.E. Hosman, grandson of Nathan Boone, who lives on a farm near the old cemetery." 
Conversations continued for decades about potentially preserving the property as a memorial. Upton, as well as attorney and history buff John Hulston, were strong advocates for the site. 
It was included in the Missouri Historic Sites Catalogue, a book published by the State Historical Society of Missouri, in 1963.
Six years later, it became the second Greene County site to be approved for the National Register of Historic Places, coming in only three years after the addition of Wilson's Creek National Battlefield in 1963 – another of Upton's pet projects. 
A major moment also came along in September 1984, with the start of the Nathan Boone Rendezvous, a long-running event that featured historical demonstrations and a Boone reunion of more than 300 family members that first year.  
"We feel that this way the name Nathan Boone will mean more to each individual if each individual makes it a part of his life," said Jim Thompson, an Ash Grove businessman, through the Springfield Leader and Press in 1984 upon the festival's start. "The more I become familiar with him, the more I become fascinated with him."  
"We knew who the relatives in Ash Grove were, so we started with them," added Laura Nell Hall, one of Boone's great-great granddaughters, in the paper about the reunion. "Each of them knew their immediate relatives, and we sent letters to them, and they knew more relatives." 
Finally, as momentum grew, in 1991 the cabin and some surrounding acreage was approved for purchase and inclusion in Missouri State Parks.
"Nathan Boone personified those frontier families who were able to come to a place like this and create a quality of life for themselves," said Roy Blunt, then Missouri secretary of state and later a U.S. representative and senator, through the Springfield News-Leader in 1991. "I think that part of our heritage will come alive at this site." 
Today, the cabin has been restored and filled with period furnishings. It's open for self-guided tours many days of the year (although they are more limited during the winter months), and guided tours are available during regular operating hours for a small fee.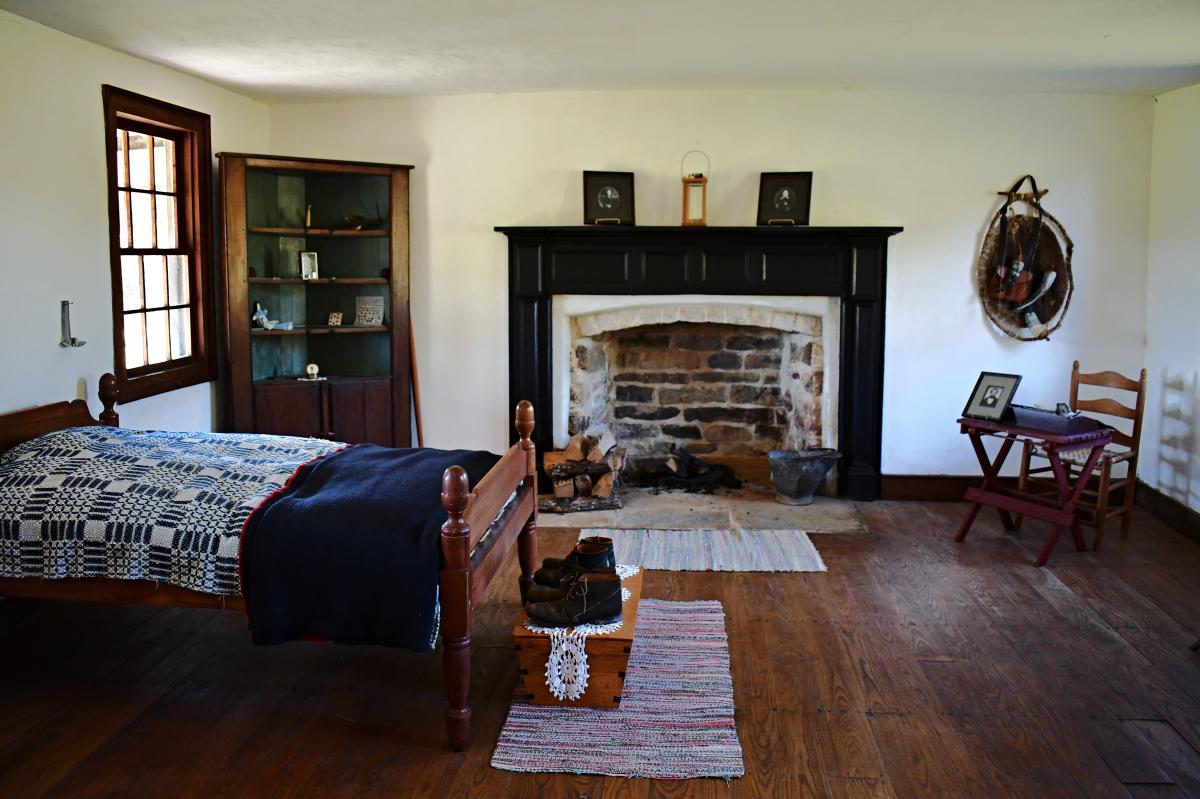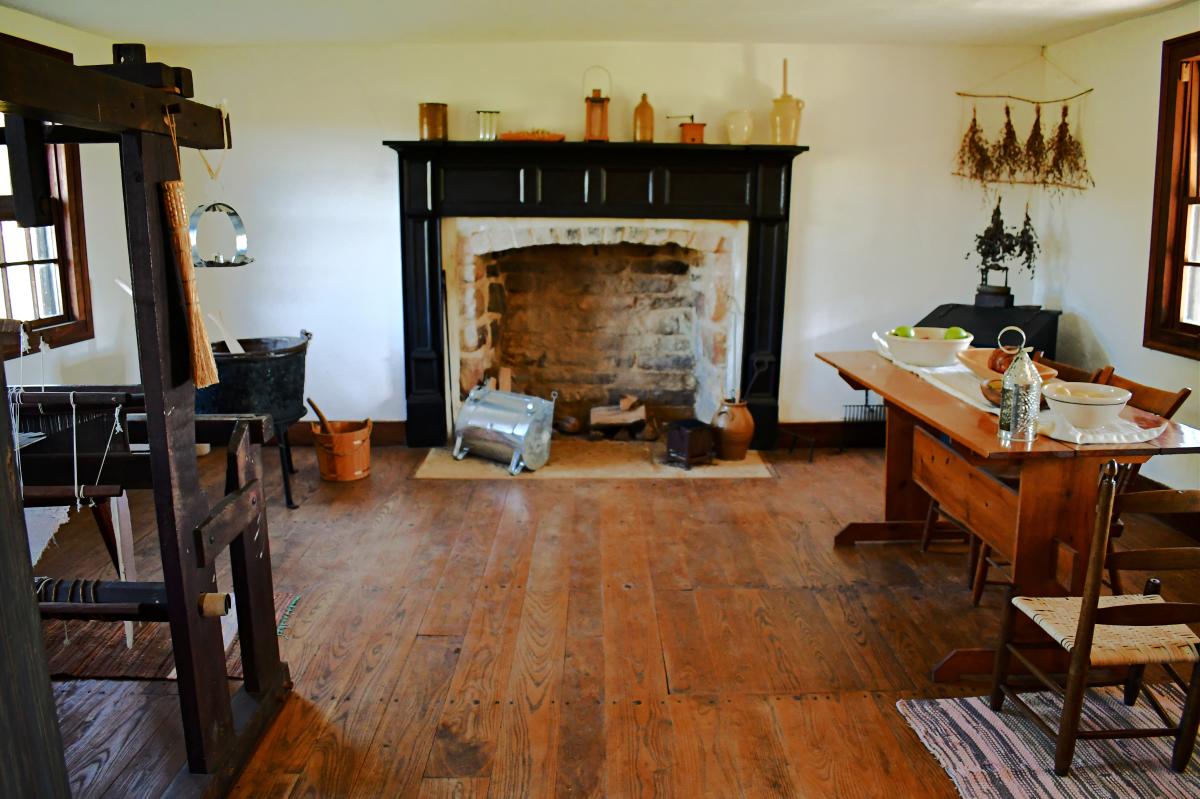 The Boone cabin's rooms are filled with period furnishings.
The site's four-plus-miles of trails are accessible every day of the year from sunrise to sunset, and picnic tables to use for getaways on nice days. Even when the cabin isn't open, interpretative signage helps explain to visitors what they see. That experience is accentuated by QR codes that help visitors delve deeper into its history.
And most activities at the site are available to visitors for free.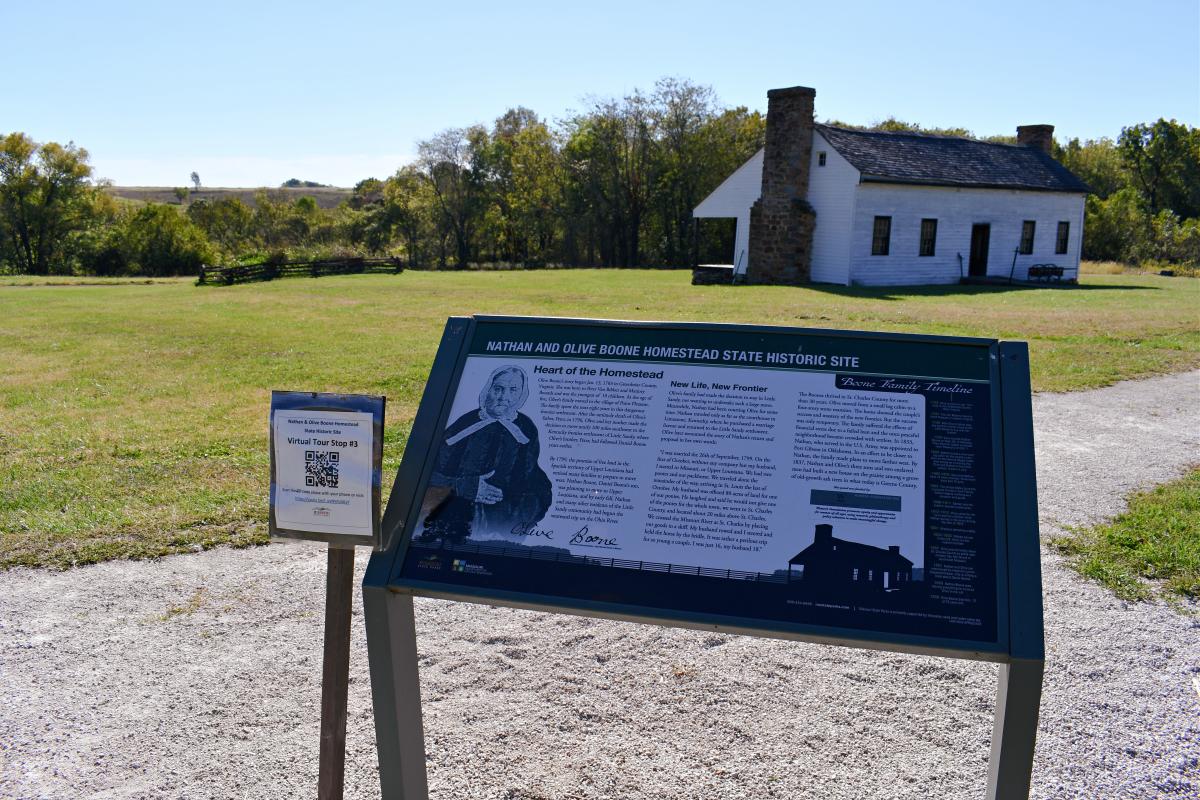 Signage and QR codes help share even more about the Boone homestead.
Additionally, the homestead periodically hosts events help offer an even more immersive experience for visitors.
One example is Historical Haunts at the Homestead, which is scheduled for Saturday, Oct. 21.
An hour of spooky-yet-family-friendly storytelling will be given by Mike and Nancee Micham – collectively known as "EznDil." Afterwards, visitors can walk the site's lantern-lit gravel path by its historic cemeteries and the Boone home to learn how the residents dealt with death and the loss of loved ones.
On Dec. 9, the homestead will also host Ozark Christmas Traditions, an event filled with historical demonstrations and other holiday merriment. 
Learning at the Nathan and Olive Boone Homestead today 
Even though the Boones have been gone for more than 150 years, there is still more to learn about the time they – and others – lived on the land now preserved as a historic site. 
Some of that awareness led to a change in the site's name in 2020, which was modified to include reference to Olive Boone. 
"Originally, the focus was more on Nathan," says Welch. "Then we decided that Olive was the one running this homestead, so her name was added and her story became more prominent in what was being told here."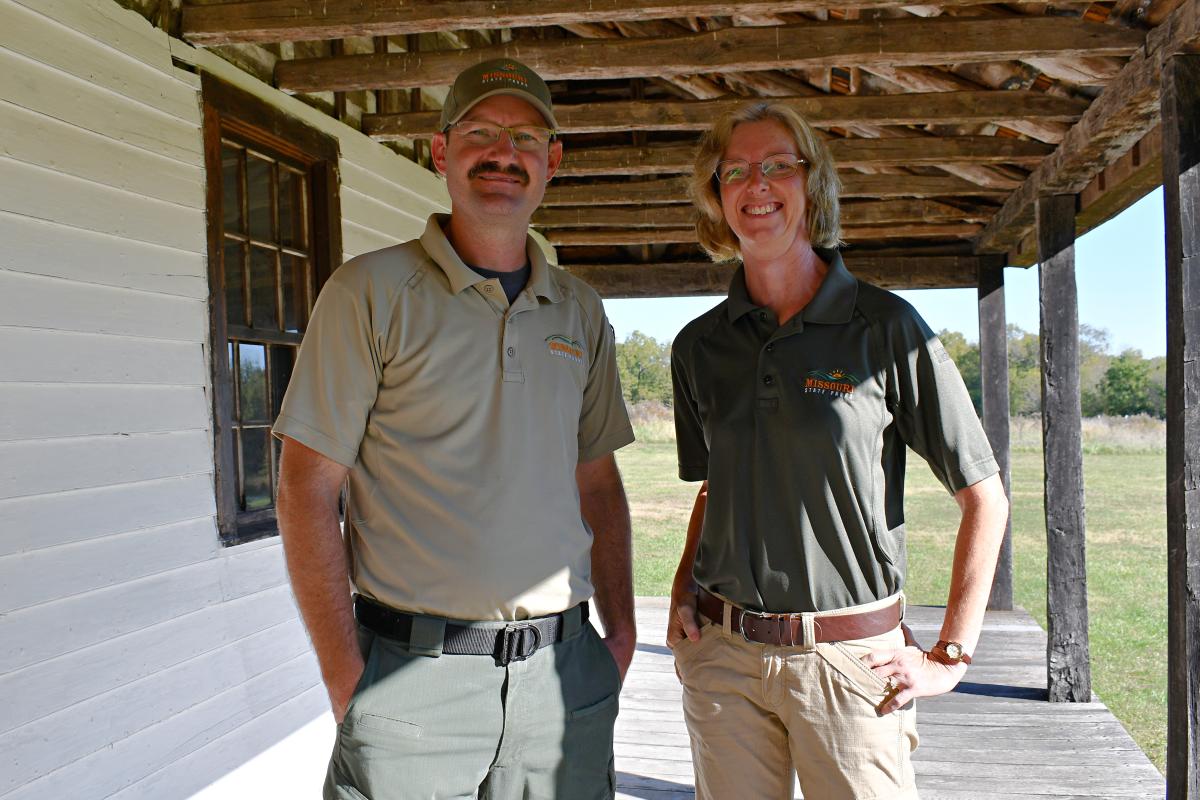 Michael Busekrus and Holly Welch serve at the Nathan and Olive Boone Homestead State Historic Site.
Another area of discovery is around the enslaved individuals who were taken to Missouri with the Boones.
A key place officials are studying is a Black cemetery on the property, tucked away in a grove of trees. It was not only the burial ground for enslaved people on the property, but also others in the community, and was possibly used from the 1830s through the late 1800s.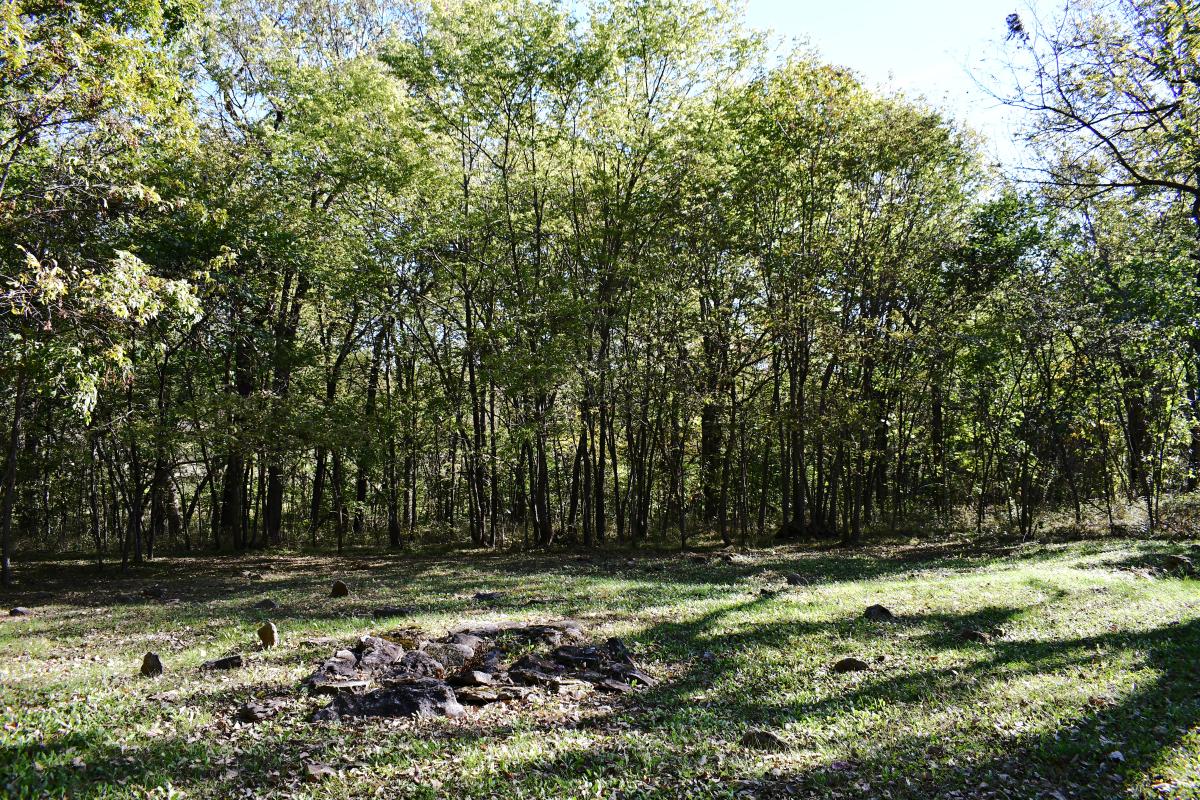 One cemetery on the property includes the graves of at least 18 Black individuals. It began during days of slavery, and continued its use through the late 1800s.
In early 2022, ground-penetrating radar was used to identity burials in the cemeteries. In the Boone family plot, they found five previously unknown individuals. In the Black cemetery, there were eight graves discovered, bringing the total number to 19.
"The thing I wasn't ready for that day, is … how fast the data comes at you," says Busekrus, speaking of the number of burials they learned about in such a short period of time. "Our crew is there and they're pushing this thing that looks like a push-mower around, and they're dropping these flags everywhere there's a burial.
"You see it on TV shows, and you're like, 'That's cool,' and they've got a team of people that interprets and works. And I'm like, 'We're the team.'  
"I think the data is a pretty powerful thing, and then saying, 'Okay, well, now what do we do with that data?' 
That information leads to more questions – and more work left to do. 
"When somebody visits today, one of the things I hope they take away is just this larger understanding of what life was like in southwest Missouri, what life was like on the edge of the frontier," says Busekrus. "And that this wasn't just Nathan and Olive out here. There were enslaved individuals that made this place possible, and it's really one of the few places you can go to really experience that in Missouri."
Want to visit?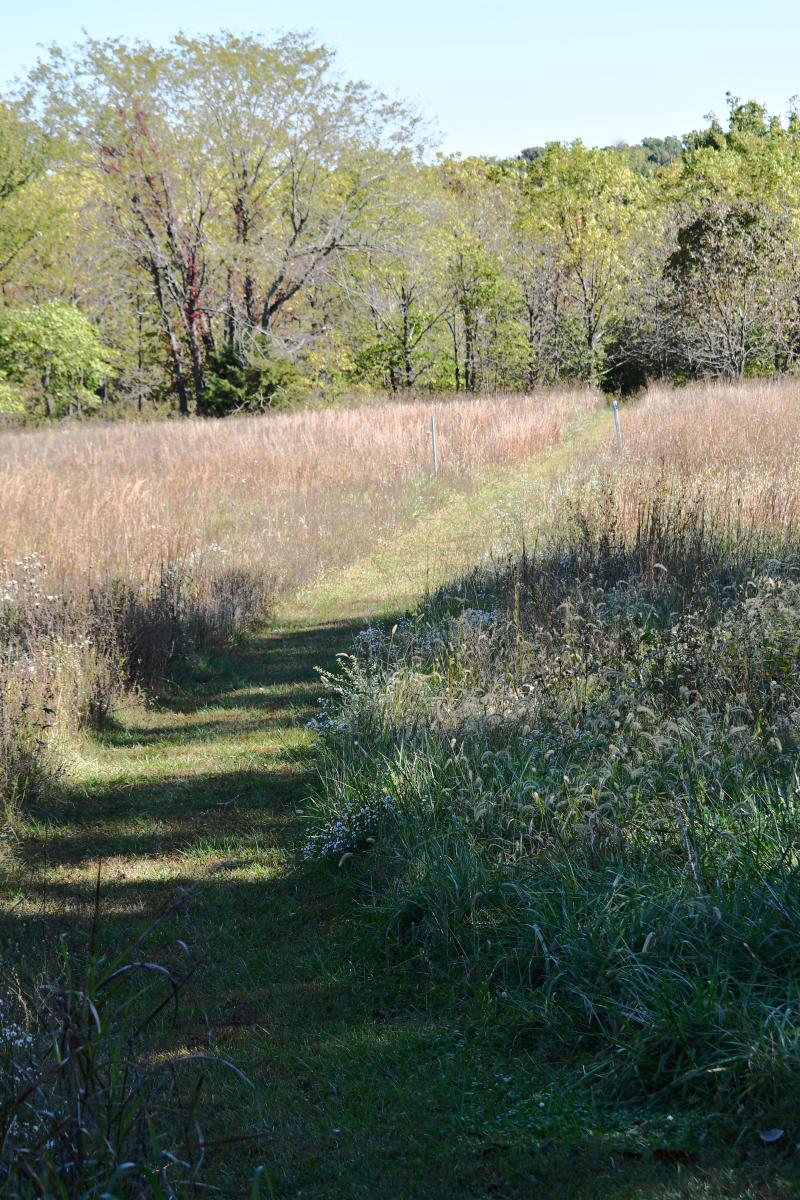 More than four miles of trails are available to visitors at the historic site.
Click here to learn more about the Nathan and Olive Boone Homestead State Historic Site. For information on upcoming events, click here.
The creation of this story is funded by a partnership between Ozarks Alive and I Love Springfield, MO!, formally known as the Springfield Missouri Convention & Visitors Bureau.
Resources 
No headline, Springfield Leader, Sept. 14, 1927
"Ash Grove festival to honor Boone," Bill Maurer, Springfield Leader and Press, Feb. 22, 1984
"Ask state park honoring Boone," Springfield Leader, Sept. 22, 1931
"'Boone Graves' will be marked near Ash Grove," Springfield Daily News, Aug. 26, 1932
"Missouri Historic Sites Catalogue," State Historical Society of Missouri, 1963
"The Nathan Boone Homestead State Historic Site," "Exploring Missouri's Legacy: State Parks and Historic Sites" (reprinted in OzarksWatch Magazine), 1992
"Nathan Boone House," National Register of Historic Places application, July 11, 1969
"Nathan Boone home to be state historic site," Christopher Clark, Springfield News-Leader, July 12, 1991
"Newspaperwoman of the Ozarks," Susan Croce Kelly, 2023
"Preserving the Ash Grove home of Nathan Boone," Laura Bauer Menner, Springfield News-Leader, March 16, 1995
"Relatives of Daniel Boone celebrate past in Ash Grove," John Hoggesteger, Springfield Leader and Press, Sept. 23, 1984
"State plans monument to Nathan Boone," Springfield Press, April 2, 1929
"A visit to the Boone Homestead," Mrs. J.B. Easley, Springfield Republican, June 7, 1914
"To honor memory of Nathan Boone," Springfield Republican, Jan. 10, 1915
"The Waste Basket," Springfield Leader, Dec. 12, 1928