Yesterday, my husband and I went to the nearby tennis courts, and next to us was a father teaching his pre-teen son how to play pickleball. A few years ago, my mother and father-in-law purchased pickleball equipment to be more active in their neighborhood. And my first-grade daughter came home from school the other day and informed me that she had been playing pickleball in P.E., and it's now her favorite sport. 
Pickleball has become the fastest-growing sport in America, and it's easy to see why! The equipment is relatively inexpensive, and people of all ages can quite easily pick up on the rules and play the game at their own pace. In fact, according to the Sports & Fitness Industry Association, Missouri is part of the West North Central region of the U.S. This region has the highest rate of pickleball participation growth at 30% year-over-year. 
With the current Springfield-area pickleball facilities and new businesses popping up with pickleball accessibility, Springfieldians are taking advantage of this statistic to make Springfield a hot spot for pickleball! Springfield organizations and businesses host tournaments, clinics and leagues year-round. 
USA Pickleball, the sanctioning body for all things pickleball, will host the Middle States Regional Championship at Cooper Tennis Complex this June, and guess what? Anyone can register! Even major Pickleball tournaments are inclusive for multiple skill levels so everyone can enjoy friendly competition.
Interested in playing? We have the resources to help you get started! You can buy your pickleball paddles and balls at just about any retail facility that sells sporting equipment. Prices vary depending on the product quality, but for a beginner, you can find a set at Bass Pro Shops for $12.99 that includes two paddles and a ball. Many locations for pickleball can be found at places2play.org, but here's some of our go-to's below.
The Ozarks Pickleball Club
What's a better way to get involved with pickleball than finding other pickleball enthusiasts? The Ozarks Pickleball Club was formed in 2008 and became an official 501c3 non-profit organization in 2021. Their goal is to advocate for the pickleball community in southwest Missouri. There is no formal membership, so the best way to join this group is by following their Facebook group, with over 2,600 followers. Here, you can find the latest on tournaments, events, clinics, socials, and leagues. Other than that, they suggest just showing up to play!
Park Board Facilities
With 12 outdoor/lighted courts, Meador Park (2500 S. Fremont Ave.) is currently the only park with designated pickleball courts. However, Cooper Tennis Complex, Gillenwaters Tennis Complex, and Perry Tennis Courts can all host tournaments with taped-off courts when needed. Each Park Board Family Center in Springfield (Doling, Chesterfield and Dan Kinney) also hosts both leagues and clinics for Springfield area residents. You can learn more at parkboard.org/pickleball.
Classic's Yard
Classic's Yard is one of Springfield's newest gems. With games galore like Connect Four basketball, a golf simulator, shuffleboard and of course, pickleball. Classic's Yard has two indoor courts. Classic's also has an extensive food and beverage menu, making it a great date night or outing with friends.
Address: 1900 W. Sunset St., Springfield
Redline Athletics
Most people think of training youth in sports performance when they think of Redline Athletics (which they do from 1–8 p.m. Monday and 1–7 p.m. on Fridays.) But did you know they also have two pickleball courts available from 6 a.m.–1 p.m. Monday-Friday? Courts can be reserved for $20 a court per hour on weekdays, $30 per hour on weeknights after 8 p.m., and $40 per hour on the weekends starting after 3:30 p.m. on Saturday and all day on Sunday. The advantages of playing pickleball at Redline Athletics… heating and air conditioning, and it never rains! In addition, the floor is specially designed to reduce the stress on joints at impact. For reservations, call (417) 319-5766.
Address: 4234 S. Reed Ave., Springfield
COMING SOON!! - Loose Goose (Corner of Grant & Grand)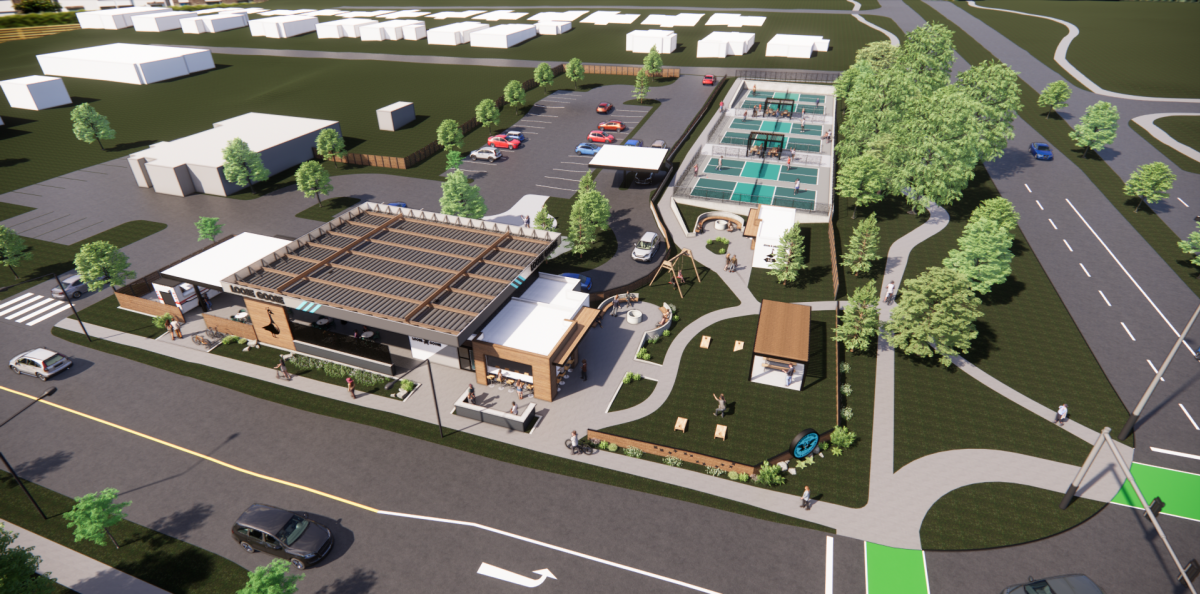 Rendering of Loose Goose, rendering courtesy of Andrew Doolittle
According to the proprietor, Andrew Doolittle, Loose Goose is scheduled to break ground in late summer or early fall of 2023 and will most likely be complete in the spring of 2024! Loose Goose plans to have six pickleball courts that can be reserved; prices are still TBD. They will also be setting up leagues and tournaments - all things to look forward to. Doolittle is teaming up with Josh Widner, owner of Good Spirits & Co., bringing his cocktail genius to yet another fun Springfield location and Michelle Billionis, who will be bringing her Coffee Ethic experience to serve up some comforting and delicious coffee. There will also be space for two food trucks to rotate throughout the week. 
Upcoming Tournaments
Southwest MO Senior Games, co-sponsored by the Northview Senior Center at Meador Park. April 28-29, 2023  
Register at:  pickleballbrackets.com
USA Pickleball Middle States Regional at Cooper Tennis Complex. May 31-June 4, 2023  
Register at: pickleballtournaments.com
2nd Annual Queen City Open presented by Springfield Roofing Systems, co-sponsored by Springfield-Greene County Parkboard at Cooper Tennis Complex. June 23-25, 2023 
Register at: pickleballbrackets.com
Branson Championship Experience at the Branson Convention Center. Aug 4-6, 2023  
Register at: pickleballbrackets.com
6th Annual Nick Hostler Memorial Foundation tournament presented by Classic's Yard at Gillenwaters Tennis Courts. Sept 23-24, 2023  
Register at: pickleballbrackets.com