Whether you love outdoor patios or want to get some amazing views while enjoying your drink, check out these outdoor patios scattered across Springfield, Missouri and the rest of the Ozarks.
Vantage Rooftop Lounge & Conservatory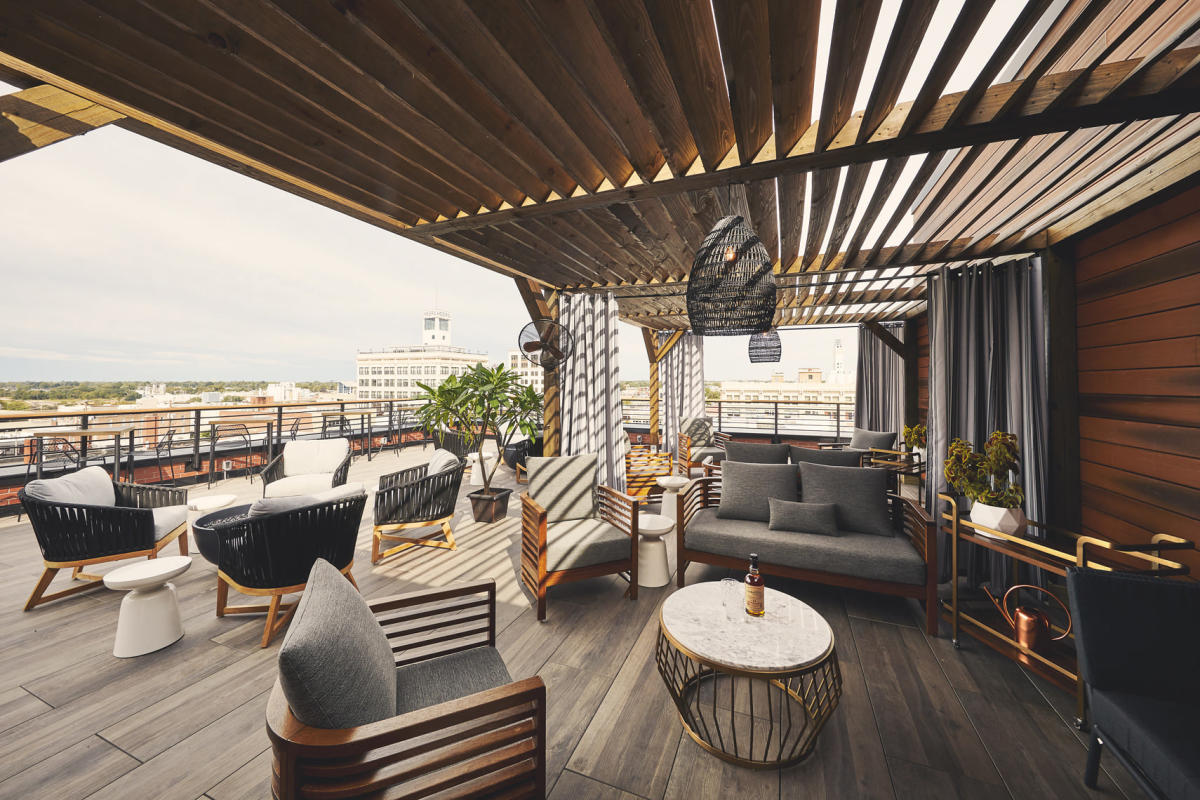 Photo courtesy of Vantage Rooftop Lounge & Conservatory.
For the best view in the city, the Vantage Rooftop Lounge & Conservatory patio overlooks all of downtown. With dozens of tables and chairs, there is plenty of space to lounge with a cocktail. In the winter, you have to check out their heated igloo set-up that allows you to enjoy a cocktail in the warmth of an insulated igloo.
Address: 260 E. McDaniel St., Springfield
Tie & Timber Beer Co.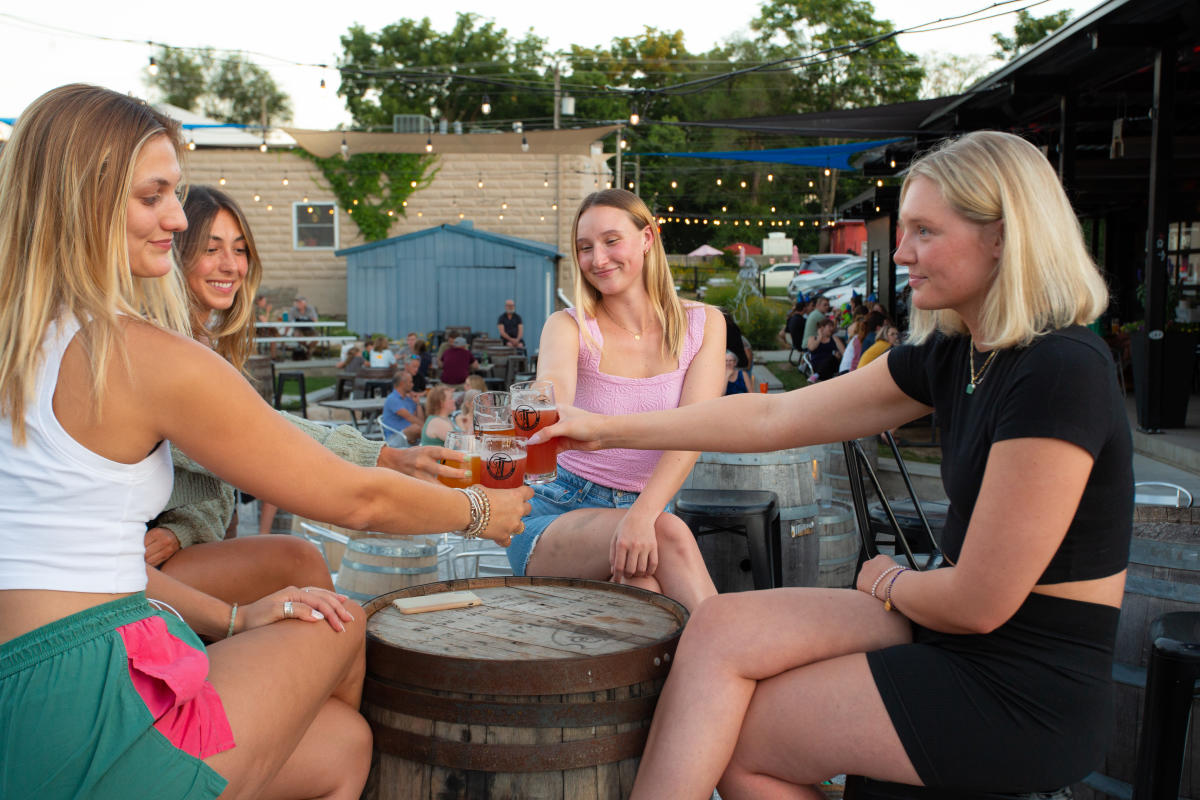 Craft beers and live music pair well together. Tie & Timber's outdoor patio gives you a great front-row view of the live music acts that happen several times a week. While you're outside, take a picture with their large bird wing mural on the side of the building.
Address: 1451 E. Cherry St., Springfield
Tea Bar & Bites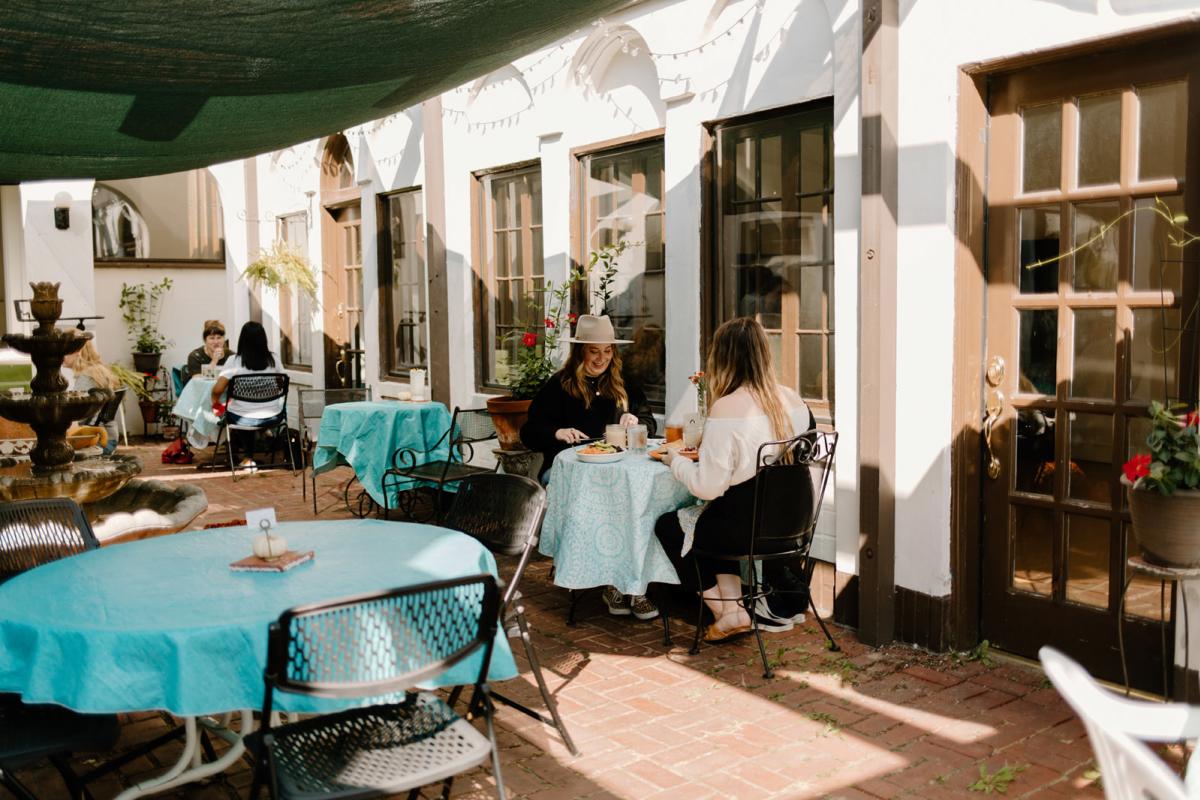 Brunch is best served outdoors. Tea Bar & Bite's covered outdoor patio gives guests a beautiful view to start their morning. With fresh-cut flowers on each table and a bubbling fountain, you'll want to start your morning this way every day.
Address: 621 S. Pickwick Ave., Springfield
Aviary Cafe by Lavender Falls
Same concept, new name, everything you loved about the original Aviary Cafe still stands but with a few added menu items from Lavender Falls. Enjoy bakery items and fresh crepes outdoors with a front-row view of the Farmer's Market of the Ozarks if you choose to dine with them on a Saturday morning.
Address: 2144 E. Republic Road, Springfield
Golden Girls Rum Club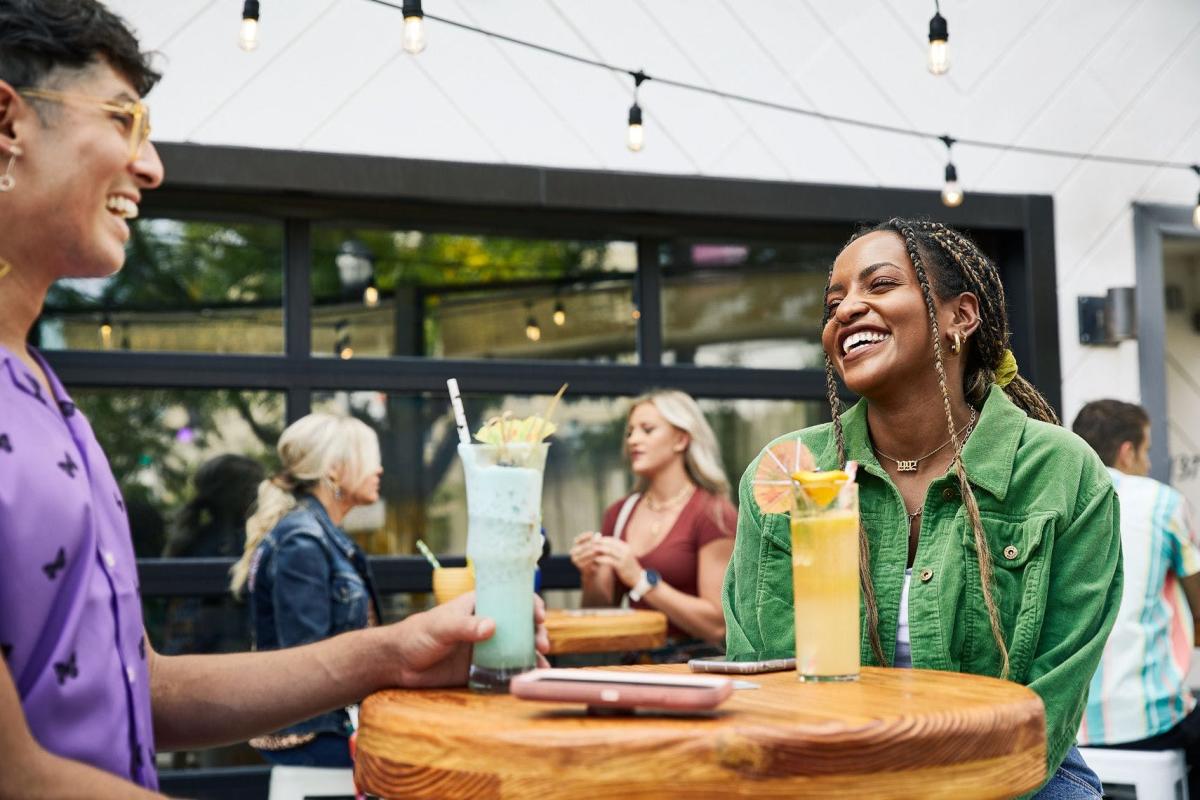 For tropical vibes, hang out downtown on the square at Golden Girls Rum Club. With easy access to the outdoor patio, you can catch a glimpse of all the downtown sights from your seat.
Address: 137 Park Central Square, Springfield
Cafe Cusco
Aged brick, ivy, flowers and string lights are what encompass Cafe Cusco's outdoor patio. Enjoy Peruvian cuisine while overlooking Historic Commercial Street.
Address: 234 E. Commercial St., Springfield
The Rock Food & Friends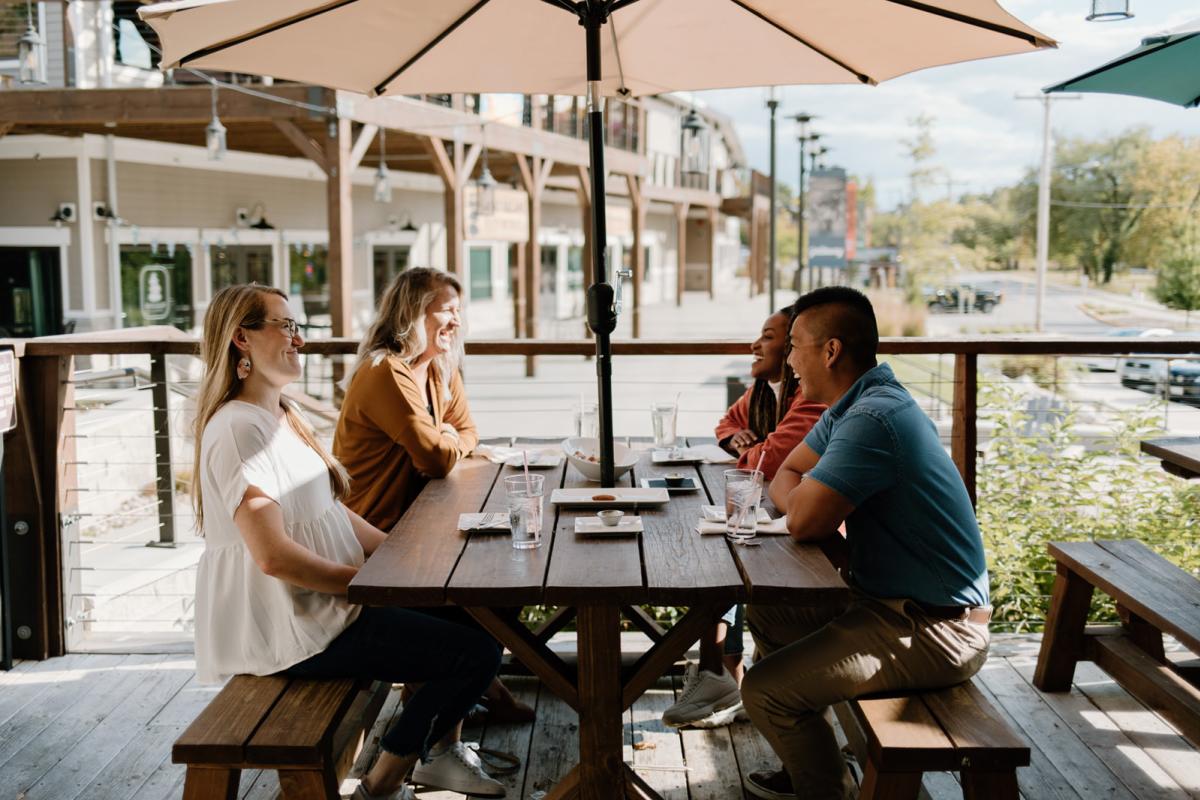 Food is best enjoyed by friends, especially on a patio with a view. Munch on some street tacos and lounge at this The Rock Food & Friends just a short drive south of Springfield.
Address: 4018 S. Lone Pine Ave, Springfield
Springfield Brewing Co.
For great mac and cheese and locally brewed beer, a night on the Springfield Brewing Co. patio is a night well spent. See the views of downtown while enjoying locally brewed beer and the sights below.
Address: 305 S. Market Ave, Springfield
Farmers Gastropub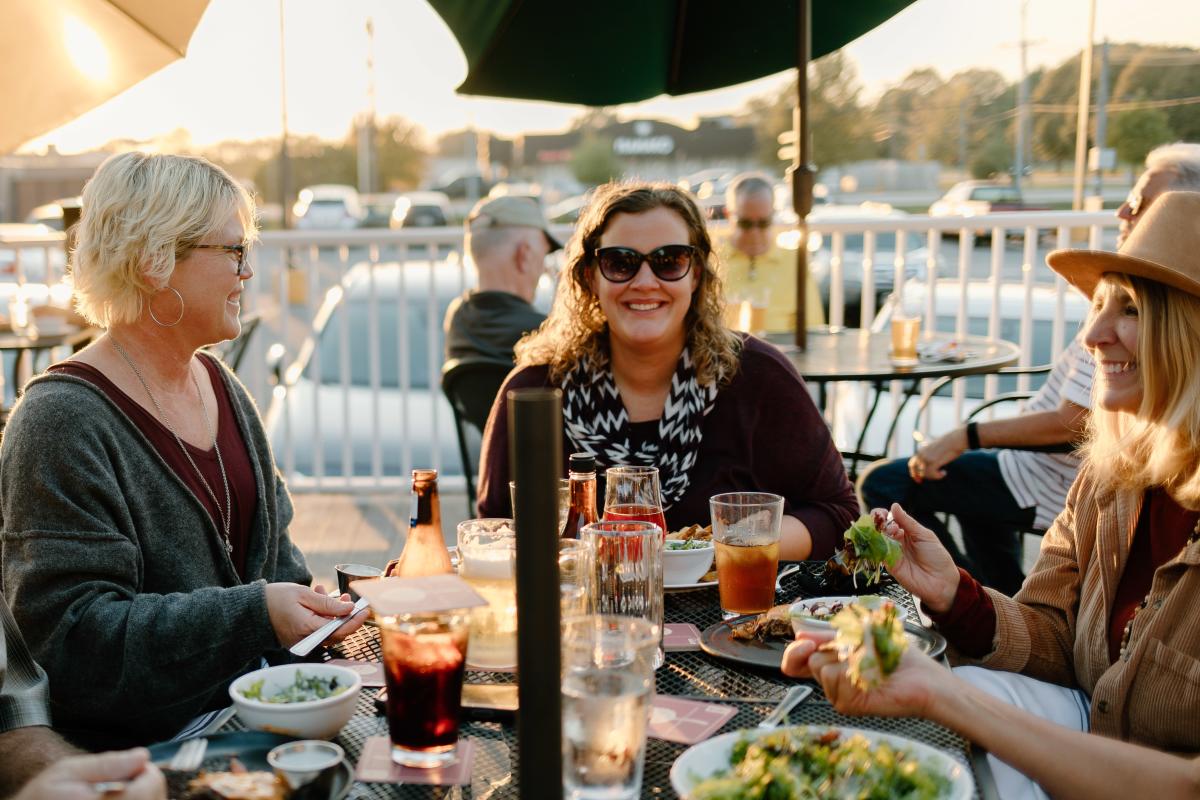 If you enjoy scratch kitchens, Farmers' Gastropub could become your favorite restaurant. From cutting chips (fries) to smoking trout and whipping up sauces, nearly everything in the kitchen is made in-house. If you have the chance, dine outside on the cozy patio overlooking Glenstone Avenue.
Address: 2620 S. Glenstone Ave., Springfield
Civil Kitchen
If you love fountains, Civil Kitchen's outdoor patio gives you the best seat in the house. In the heart of downtown, Civil Kitchen can be found on the square giving you an incredible view of the eye-catching fountain in the center of town. If you're hungry, their chicken tenders with sauteed kale are truly mouth-watering.
Address: 107 Park Central Square, Springfield
Great Escape Beer Works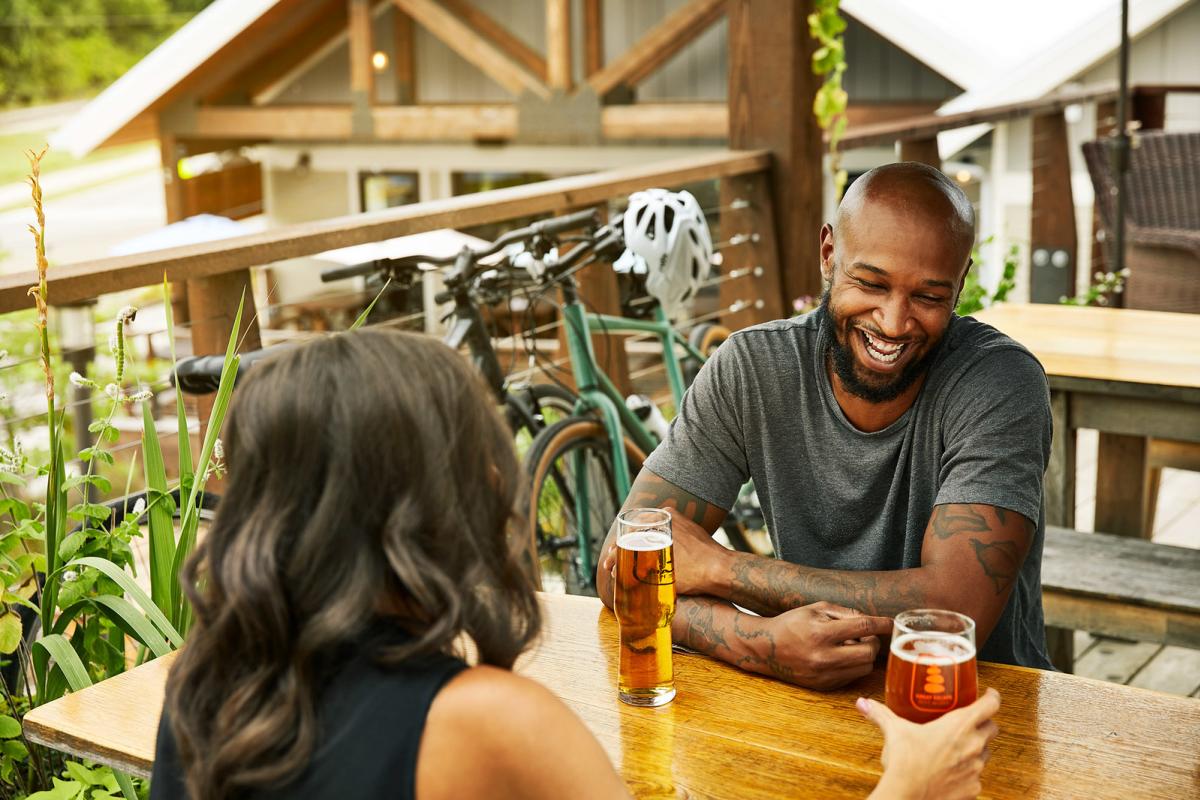 Escape to the outdoors and appreciate mother nature at Great Escape Beer Works. This balcony patio is shaded with umbrellas and a pergola perfect for savoring a great tasting beer.
Address: 4022 S. Lone Pine Ave, Springfield
Cherry Picker Package X Fare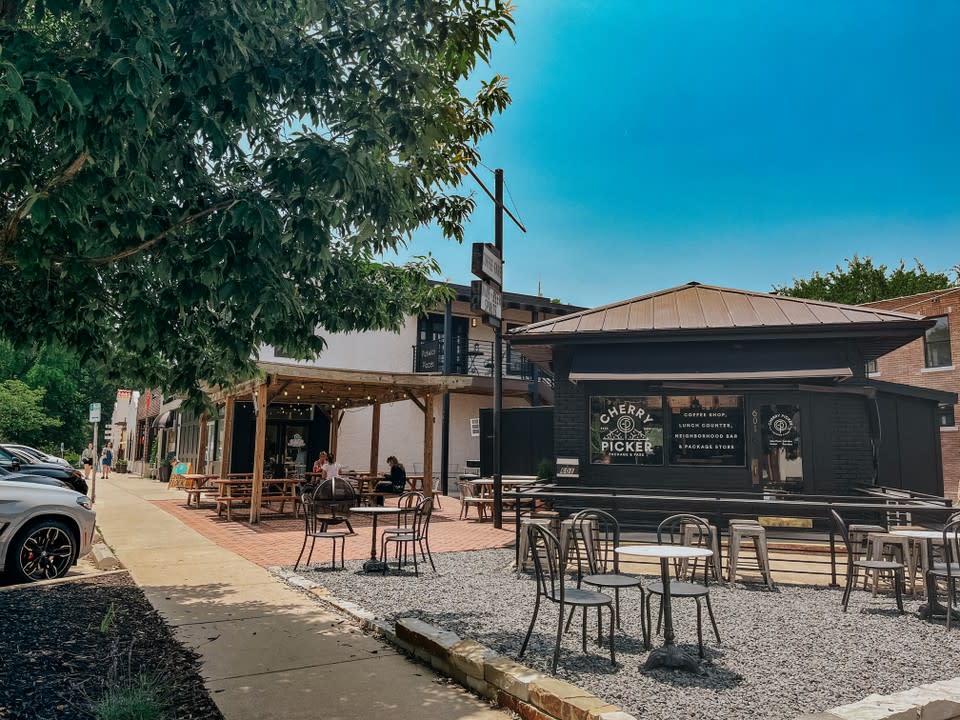 Nestled at the intersection of Pickwick and Cherry, you'll find a quaint black building serving up a menu brimming with comforting delights. Find a seat on the patio overlooking the intersection, and treat yourself to a steaming bowl of tomato orange soup or savor the deliciousness of a pesto turkey melt on toasted wheat bread.
Address: 601 S. Pickwick Ave., Springfield
Hold Fast Brewing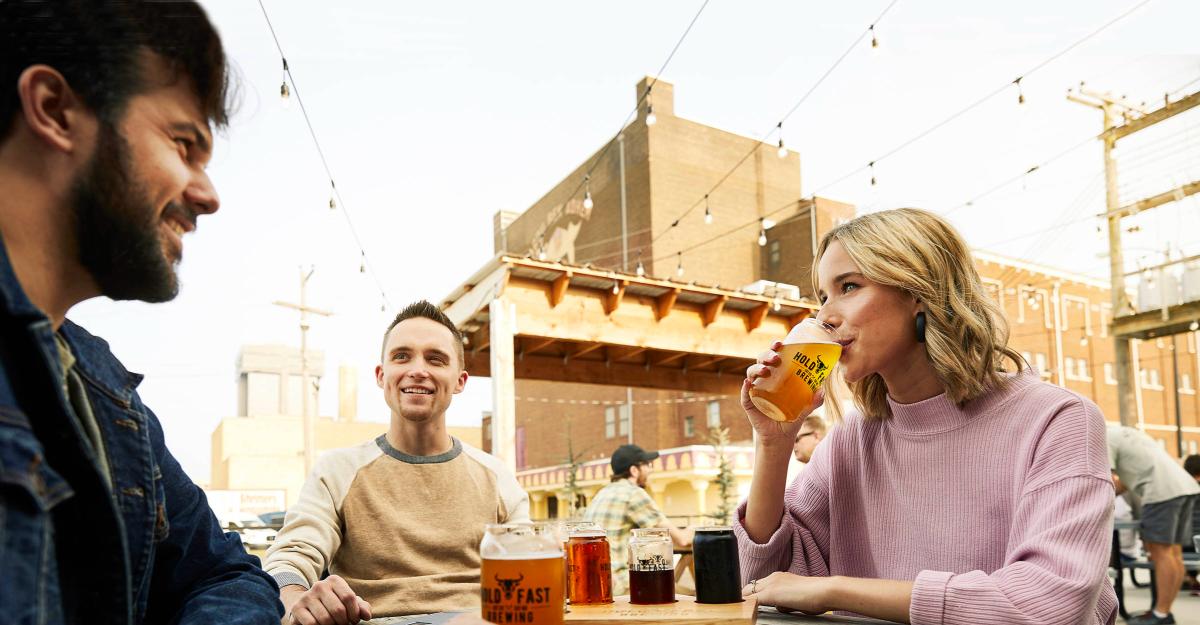 This dreamy patio is located on the edge of downtown and is known for its dreamy string lights strung high over the outdoor bar area. Besides great beer, Hold Fast Brewing hosts trivia nights, live music, and food trucks several days during the week.
Address: 235 N. Kimbrough Ave., Springfield, MO 65806
4 By 4 Brewing
Across from Sequiota Park, hang out at the 4 By 4 Brewing patio after a run or biking trip on the Galloway Trail. This microbrewery is the perfect spot for any company or casual social gathering under dreamy string lights and covered canopies.
Address: 2811 E. Galloway St. Ste A, Springfield, MO 65804
Mother's Brewing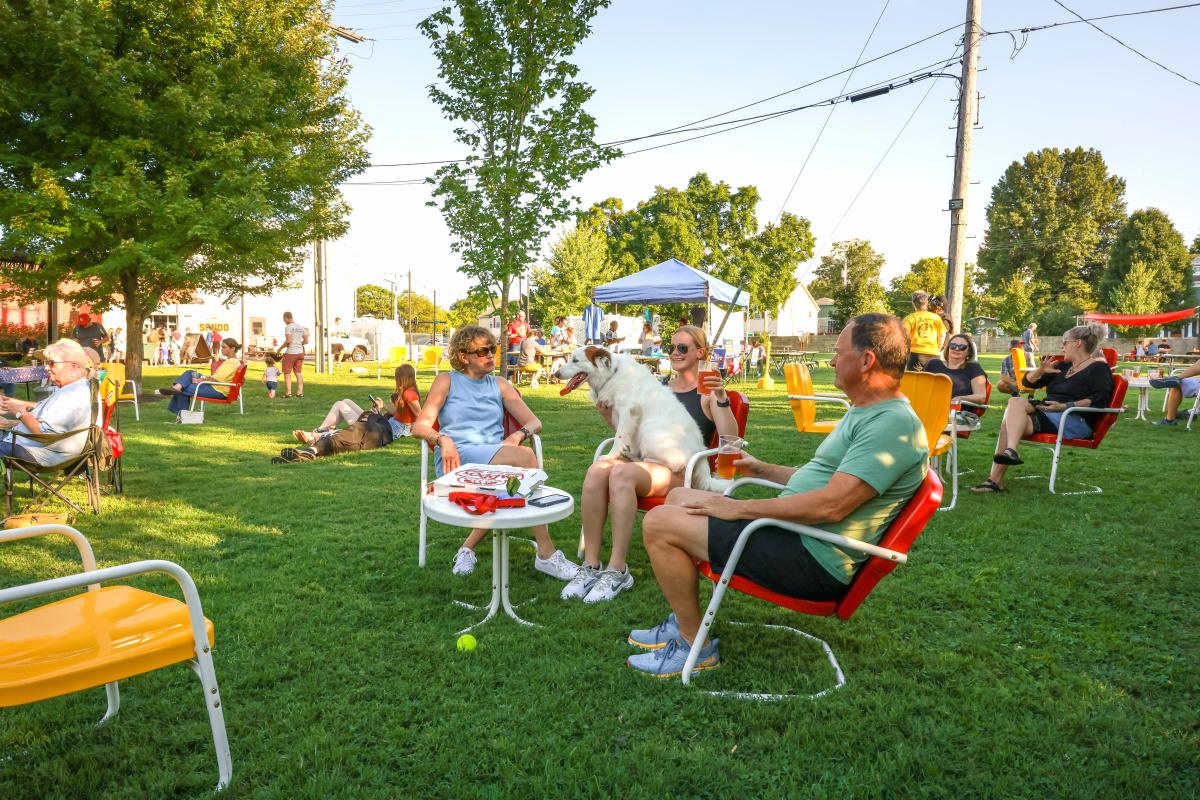 For wide-open spaces, Mother's Brewing is the perfect place for live entertainment, outdoor games and brews. Take an afternoon to throw a frisbee around and sit back in a lawn chair sipping homemade brews.
Address: 215 S. Grant Ave, Springfield, MO 65806
Big Whiskeys
With three locations scattered throughout Springfield, you have three opportunities to relax on a Big Whiskey's outdoor patio. With great happy hour deals, you can sit outside under a shaded umbrella while sipping on a perfect pint or cocktail.
Address: Multiple Locations
Outside Springfield
Wire Road Brewing
Head to the southwest part of Springfield for lunch and some great brews at Wire Road Brewing. The brewery's expansive patio and yard games make for a great place to relax and have fun. Grab a bite at one of the rotating food trucks that pop up daily.
Address: 4453 S. Timbercreek Ave., Battlefield
Bear Creek Wine Company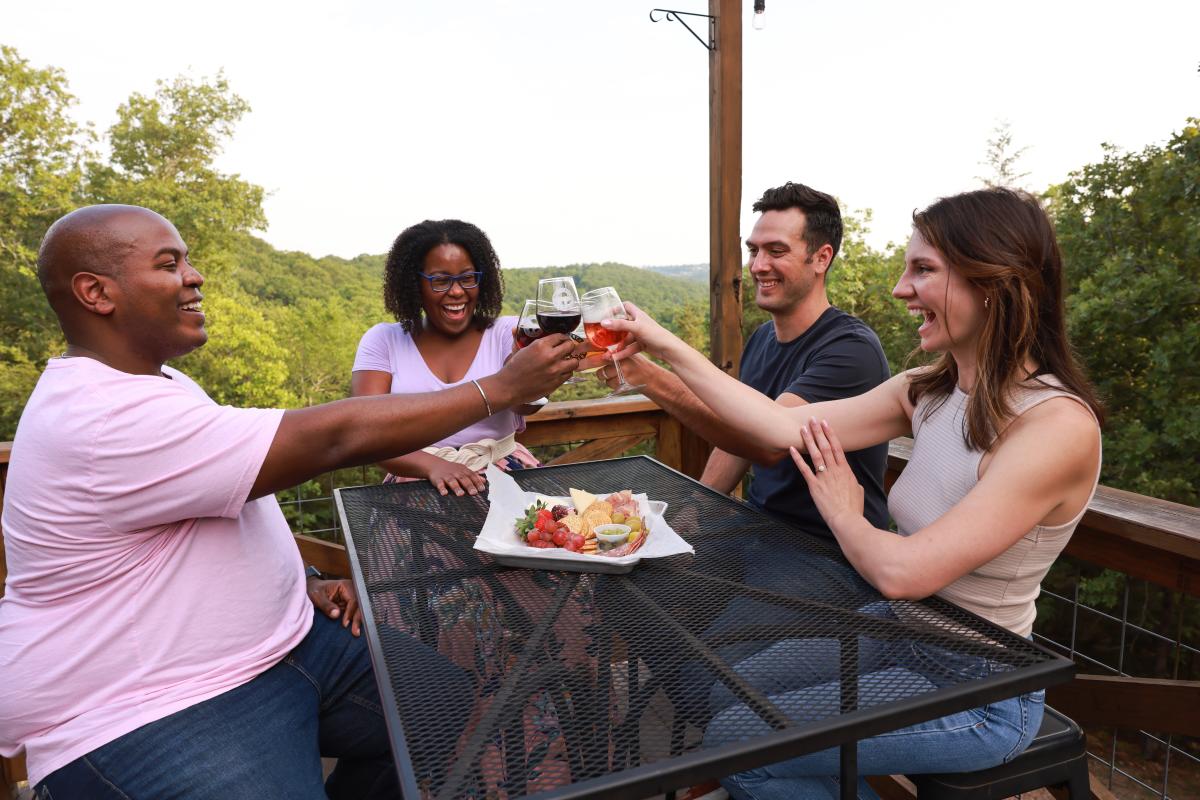 For a dreamy dinner under the lights and trees, Bear Creek Wine Company has the perfect set-up. While viewing the beautiful Ozark foliage from your seat, try some of their menu items including hand-tossed rustic pizzas, scratch-made hot pretzels, campfire chips and cheese boards.
Address: 1320 Keithley Road, Walnut Shade
7C's Winery
For local wine and meads (wine made from honey) 7 C's Winery is all about great tasting wine that's environmentally friendly. Their wine and meads are served in recyclable pouches that reduce carbon footprint by 85% compared to glass. With wide-open spaces and rolling hills, sit and relax on their outdoor patio with some sweet meads.
Address: 502 E. 560th Road, Walnut Grove
The Buffalo Bar at Top of the Rock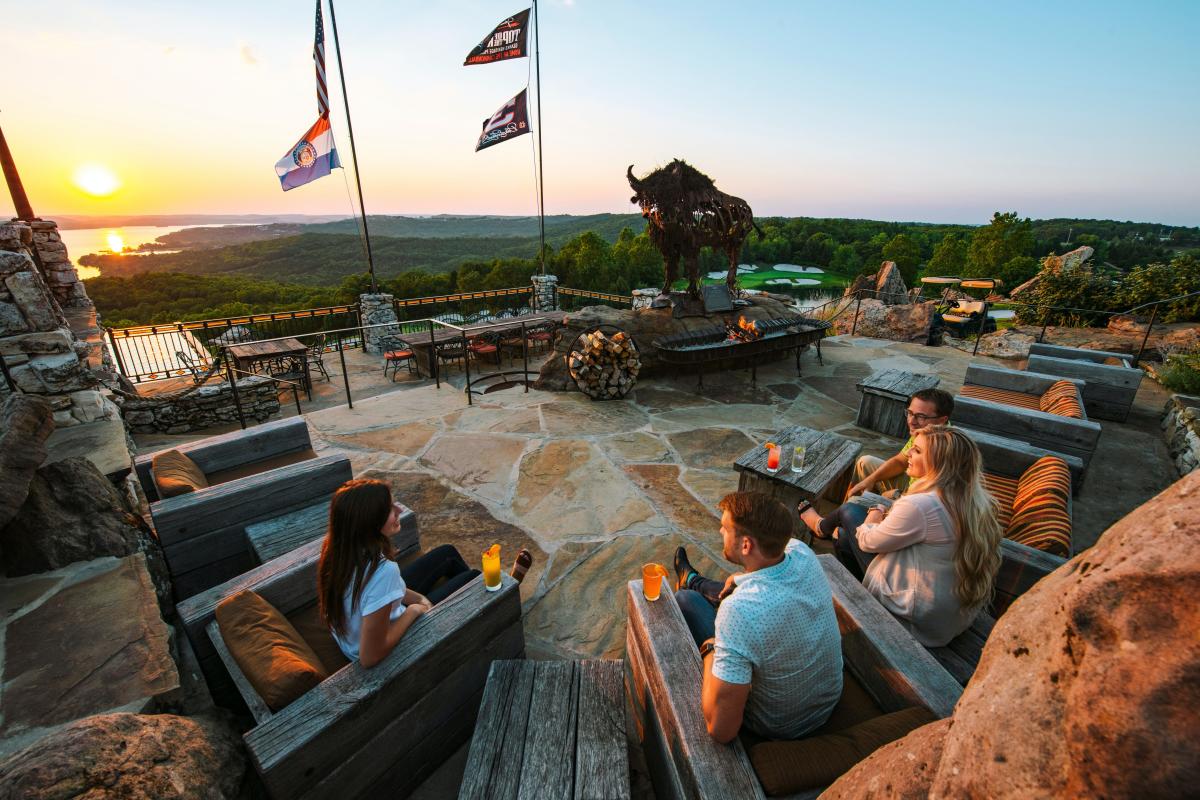 Further south you'll find stunning views near Branson at the Buffalo Bar at  Top of The Rock. With views of Table Rock Lake and rolling green golf courses, you'll want to stay a little longer than just a few hours.
Address: 150 Top of the Rock Road, Ridgedale
Lindwedel Winery
Overlook 15 acres of rolling hills just west of Branson from the Lindwedel Winery patio. Whether you're a fan of red or white wine, you can enjoy a glass near the grapes the recipe was made from.
Address: 3158 State Hwy 265, Branson
Ozark Mill Restaurant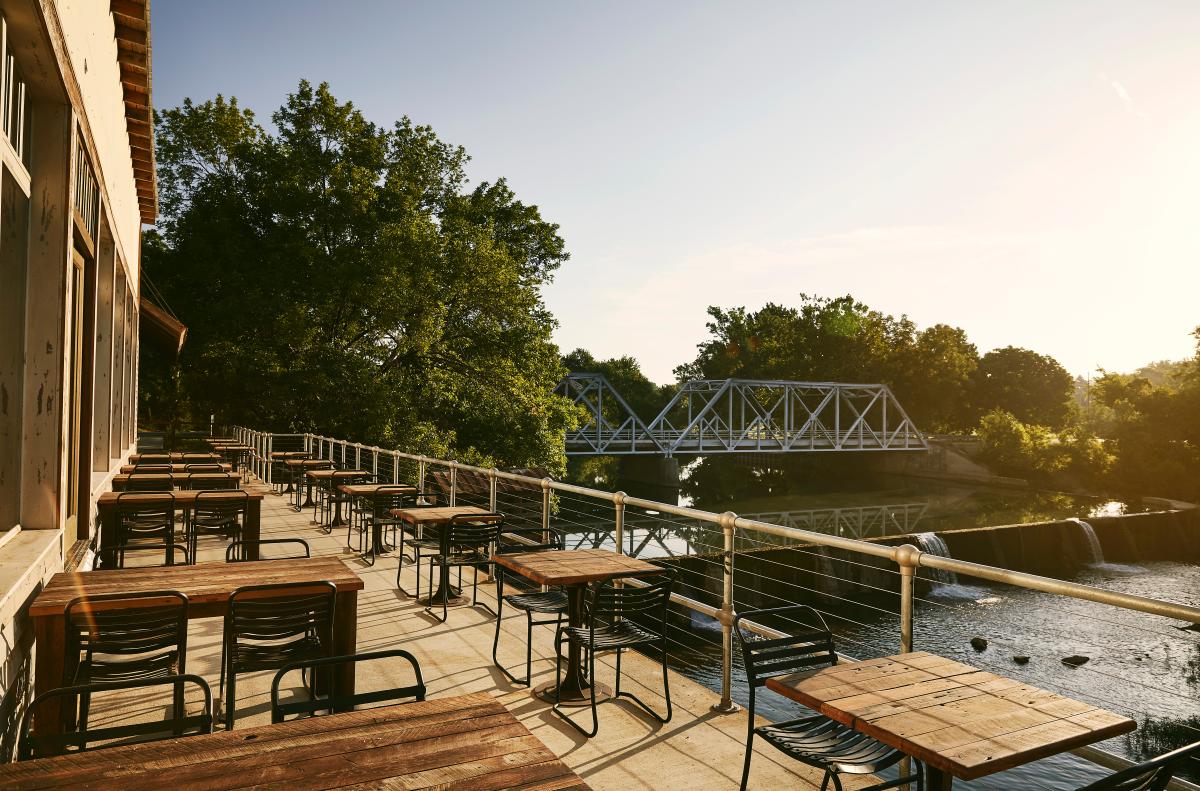 Photo courtesy of Finley Farms
Immerse yourself in a remarkable farm-to-table dining experience, surrounded by the breathtaking riverfront scenery at the Ozark Mill Restaurant. Delight your palate with a feast of seasonal flavors, ranging from refreshing cocktails to mouthwatering burgers and vibrant salads.
Address: 802 Finley Farms Ln, Ozark
Vineyard Market
A local winery and lounge, enjoy wine, cocktails, a great cigar, tea or adult coffee at The Vineyard Market. Hungry guests can order large artisan-style pizzas, calzones and hot or cold sandwiches. On warm nights grab a seat at the outdoor patio overlooking the city of Ozark.
Address: 1759 W. State Hwy J, Ozark
Cassell Vineyards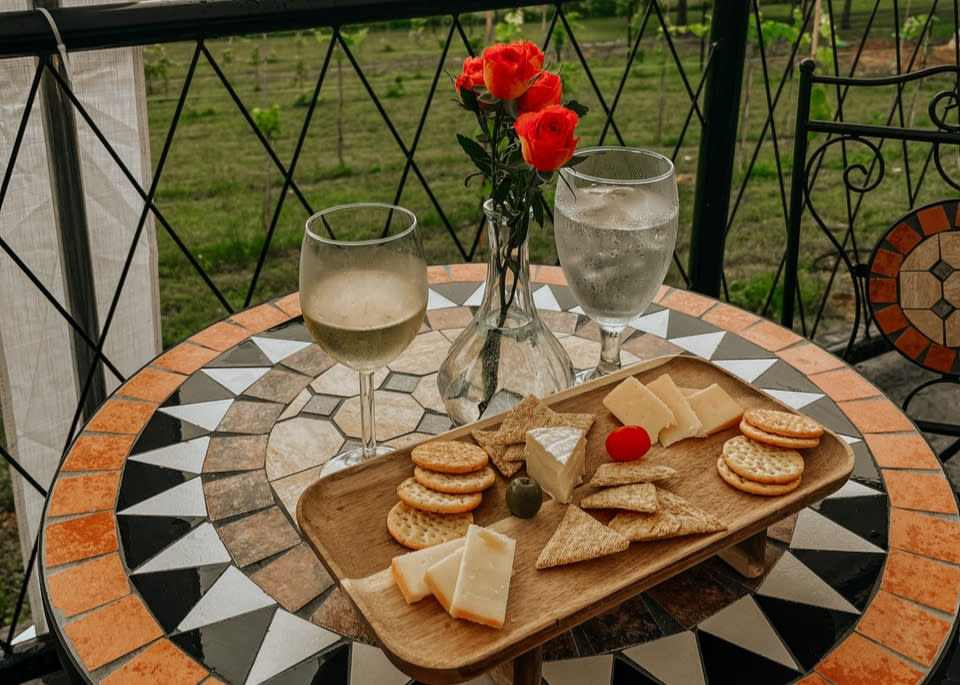 Cassell Vineyards, nestled in the heart of Mansfield, Missouri, offers a stunning setting with the picturesque Ozarks as its backdrop, just an hour east of Springfield. This charming vineyard boasts an alluring outdoor ambiance, providing the perfect spot to indulge in Chardonnay or Moscato while immersing yourself in the scenic view.
Address: 1103 Lucky Road, Mansfield