Did you know the Ozarks are home to several sunflower fields? If you're looking for a fun photo op or to take a bit of sunshine home with you, here are several places you can pick your own sunflowers.
7C's Winery
7C's sunflower experience allows you to stroll the 2.5-acre field and take pictures at several open spaces. Tickets are $5 per adult and children 12 and under are free. Dates range from late August to early September. Later in the year, 7C's will offer a u-pick season to take home even more sunflowers for $2 a stem.
After your sunflower stroll, head inside to enjoy a glass of wine or mead that suits your taste palette. 
Address: 502 E. 560th Road, Walnut Grove
Country Roads Family Fun Farm
Country Roads is celebrating the end of summer with a sea of sunflowers. From Aug. 6-Sept. 4, take a hayride to the field and view sunflowers of every size and color from auburn to yellow. Get lost in the new 6 acre sunflower maze and stroll through its breathtaking beauty. Entrance to the field is $5 a person and u-pick sunflowers are $2 a stem. Access to additional areas such as the petting zoo, and indoor/outdoor play areas are $10 a person. Concession items are available for purchase.
Address: 15144 State Hwy. 97, Stotts City
Miller Farm Park in Willard
From the end of August to mid-September, visitors can take photos and pick their own sunflowers at this sunflower field at Miller Farm Park. Check Williard Parks Facebook page for blooming times and prices.
Address: 1001 S. Hunt Road, Willard
Fassnight Farm
This year, Fassnight Farm is offering u-pick sunflowers right in the middle of Springfield starting end of July-August. Sunflowers can be picked at $2 a stem. Clippers and containers will not be provided, so you'll need to bring your own!
Address: 1366 S. Fort Ave., Springfield
Downtown Springfield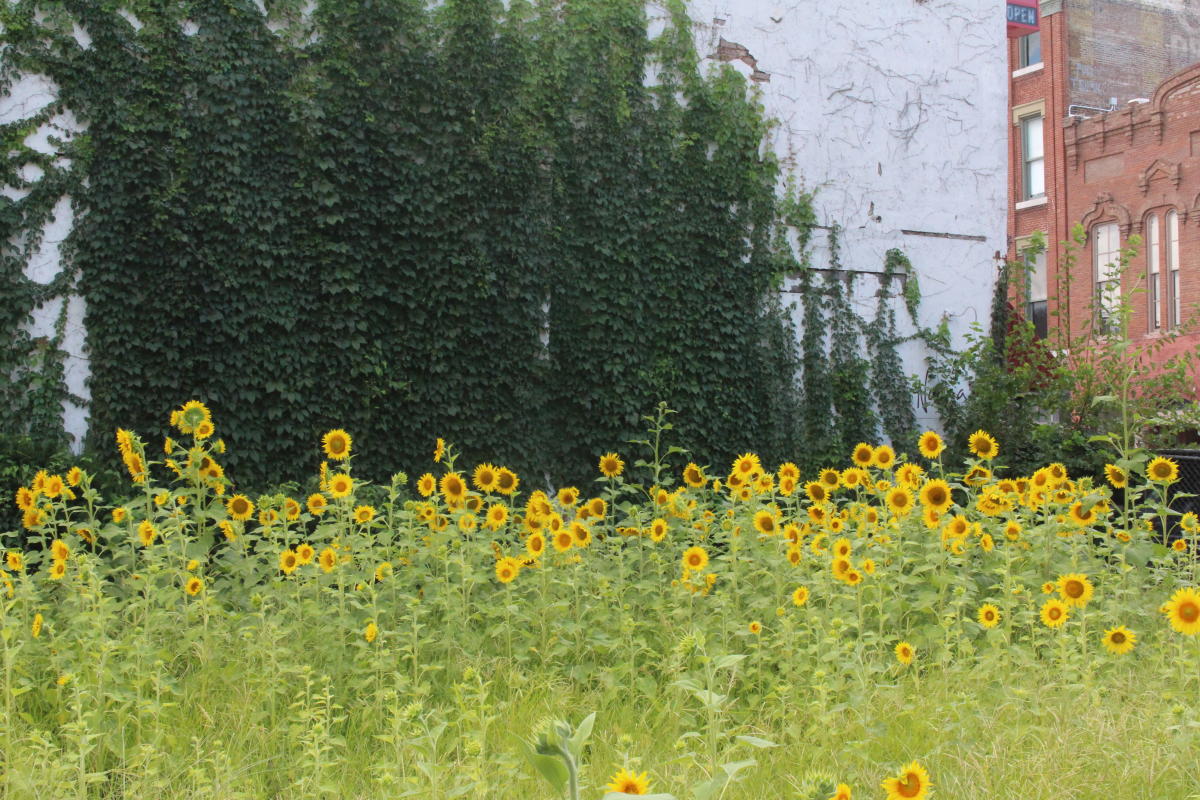 Photo taken August 22, 2022
A sunflower field will be popping up in downtown Springfield. On East McDaniels Street between Vantage Rooftop Lounge and Conservatory and Nonna's Italian Cafe. Downtowners are encouraged to stop by for a photo op when they're blooming. For updates on when they're ready, check back to this post.
Events
Enjoy a beautifully cooked brunch near the sunflower field at Country Roads Family Fun Farm. 
When: 9-11 a.m. Aug. 13 and Aug. 20, 2022
Where: 15144 State Hwy. 97, Stotts City, MO 65756
Wander through acres of sunflowers, take pictures with your device, or schedule a sunset session with a featured photographer. If you're hungry, Country Roads will have farm-to-table fare available for purchase.
When: 4-9 p.m. Saturdays and Sundays in August.