Singer and Springfield native, Chappell Roan, is traveling back to southwest Missouri to perform her nearly sold-out Naked In North America tour at the Gillioz Theatre on March 6. We spoke to her about her career history, her life in LA and what it's like coming back to her hometown.
What inspired you to go by Chappell Roan?
Chappell Roan: It's my grandfather's name. His last name, it's my mother's maiden name, Chappell. Roan comes from his favorite song called "The Strawberry Roan," by Marty Robbins, it's like an old western country song. I was having such a difficult time coming up with a name. It took me two years, honestly. I went through so many names. I wanted to be like Delila Ritter for a second because I grew up going to Ritter Springs Park.
You're originally from Willard, Missouri; what were/are some of your favorite places to visit in the Ozarks?
C.R.: Ritter Springs Park is one of them, and Silver Dollar City. I miss it so much. I wear Silver Dollar City t-shirts all the time in LA. I love Andy's Frozen Custard, it's always really fun going there. I've always loved going to Juanita K. Hammons Hall. I also love the Little Theatre; I love seeing plays. I also adore Fantastic Caverns.  
When people ask you where you're from, how do you describe the Ozarks to them?
C.R.: I usually say it's very conservative, very opposite of LA, but not in a bad way. It's so much more peaceful and the air is so clean. It's like farming, especially in Willard, it's just farms. It's a lot of churches, really green, really kind, everyone opens doors to each other. Very much has the Midwest hospitality vibe. 
I read somewhere that your song "Pink Pony Club" was inspired by your desire to become a go-go dancer in Los Angeles. Would you say your other songs are inspired by other real-life feelings, moments and desires?
C.R.: Oh, for sure. My "Pink Pony Club" song is literally inspired by a strip club in Springfield. It used to be called Pink Cadillac, but now it's Centerfolds. The building used to be all hot pink. They had neon signage and it was so beautiful. I remember growing up and passing it because I used to go to Hickory Hills [Country Club.] I always adored it and wanted to go in there, but didn't realize it was a strip club.
A lot of my songs are made-up stories inspired by real feelings. I have a song called "My Kink Is Karma," and a lot of that is made up, but it was still a very real feeling of being hurt and wishing karma on an ex.
You got your career started by first uploading covers and songs to YouTube. Did you expect your music career to take off from there?
C.R.: No, I didn't even think I was going to do music. I wanted to be an actress. I took acting classes from a guy who moved from LA to Springfield and opened a little acting studio. I just uploaded covers, everyone told me I could sing well. I thought singing would get my foot in the door to be an actress, but I don't want to be an actress anymore! I didn't think that would happen. I had an original song called "Die Young," when I was 16 that really set everything into motion. I performed it at Cider Days. I'm pretty sure a cameraman from KOLR10 came up to me and was like "hey, I think you're really good. I have a camera and I have always wanted to shoot music videos. If you ever want to do it, it'll be free. I just want to do it for fun." So we went up to my garage with my mom, built this mini set and he filmed it, and that's what got me signed. It was crazy, really crazy. It was all going on when I was a sophomore in highschool.
I actually graduated a year early because of my job. I begged the principal to let me graduate early. I was flying once a month to New York or LA because I was showcasing my music to record execs. I was 16, I didn't know what was going on. I was doing math homework at the hotels and stuff. I was like, I literally can't do this, I'm going to break down. I had to take extra credit online classes to make up the credit at BYU. I took some wack ass classes to get it, but I made it. 
Is there any one moment in your career that you remember thinking, "I made it?"
C.R.: Yeah, my headline show. I did it in New York over the summer and it was a 600-cap room, which I've never performed my own music in front of [that many people.] I've just never done that. It felt very real, like everything had paid off for me, even though it wasn't a massive show. I didn't make money, I actually broke even. I created space for queer people to feel safe and have fun and have a party. That's everything I've ever wanted, is to do that. To allow people to have fun and be happy. That's it. I've made it. Even being signed to Atlantic Records for five years, I didn't feel like I'd made it yet. Now, I feel so content. If I were to stop tomorrow, I'd be like yep, I did it. Now I'm embarking on a sold out tour, and it just blows my mind. 
You opened for Olivia Rodrigo last May. What was that experience like?
C.R.: It's so crazy. Because I literally thought, there's 11,000 people, and I'd never performed in front of that type of crowd. I'm very grateful for Olivia. Olivia is great and lovely and gave me this opportunity and believed in me. I really thought I would perform on that stage and feel like I would arrive into this new part of my career, like this is it, this is a test, and I wasn't even nervous. I got off stage, went back to my hotel, and thought 'I guess this is what it feels like to perform for an arena,' and it really doesn't feel that different.
The night before I played Olivia's show, I performed at this tiny bar for like 200 people, and that was my first headline show. I went from 200 people, and then the next day, I opened for Olivia for like 10,000 people, and I felt the same way. Honestly it was less pressure opening for that crowd. I'm just the opener, I'm not the headliner, that's a lot of pressure! I felt ready for that and didn't expect to feel that. I felt very comfortable with that size of crowd and amount of pressure. I kinda patted myself on that back! I was ready for it.
What are some things people may not know about when they first meet you?
C.R.: As Chappell Roan, they expect me to be this really outgoing, really sexy, seductive person, and I'm not like that. I drink hardly ever, once a year, twice a year, I'm single, literally celibate on purpose. I'm not the character that I play. I view it very much like a character and performance piece. A lot of people don't realize I sew a lot, craft and crochet. I love throwing craft night at my house, like one or twice a week and invite people over and make hot cocoa.
I'm very into wholesome things. I think that's where my Missouri upbringing comes from. It comes into play. Back home, that's kind of a big night when you have company over; it's really like a thing. In LA, there are bars everywhere, people having so much fun, there's just so much to do here and in Missouri, at least where we are, in Springfield, most places close at like nine except bars. There are not a ton of queer bars, but here in LA, I like to bring that energy into my home and invite friends over. I have a Guinea pig, her name's GoGo. That surprises a lot of people. I just love really wholesome things. I'm not into the whole LA thing. I love LA but I'm not into all that, whatever that is.
You're going to be performing in Springfield at the Gillioz Theatre in March. What can people expect when they see you live?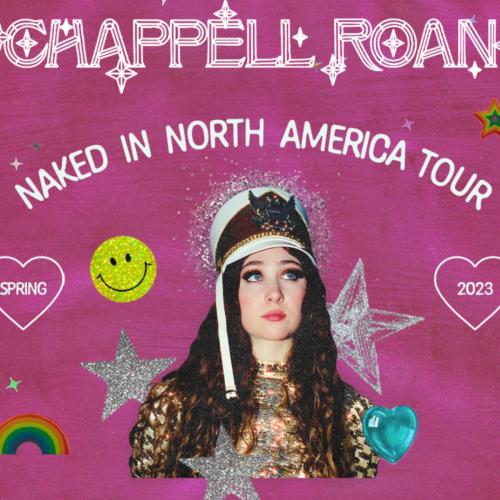 C.R.: Every show on the tour is themed, and it is highly encouraged to dress up. Since Springfield is my hometown, I thought homecoming queen would be a fun theme. I encourage people to wear something that makes them feel good, like maybe a dress or a suit that they don't really wear otherwise. Something you wish you could wear out, but it's just too much to wear to the store or something. That's really highly encouraged. I'm wearing a homecoming dress on stage. My band is all in silver sequins, I have a sash and a crown. It's a really really fun time. I did it for both my LA and New York shows and almost everyone dressed up. So, don't think you're going to be the only one, because the community that listens to my music goes all out!
Chappell Roan will be performing at the Gillioz Theatre on March 6. You can still purchase tickets here.