One of the most anticipated businesses to open their doors in the 417 has been 14 Mill Market in Nixa, Missouri. If you're like me, you've patiently watched and waited for months to see when they would open their doors to the eager patrons of the 417. The wait is finally over! With a determined heart and an empty stomach, we marched in and ate at all ten restaurants inside to show you a sneak preview of what you can expect. If you love video, see the video about our experience here!
Sno Biz Plus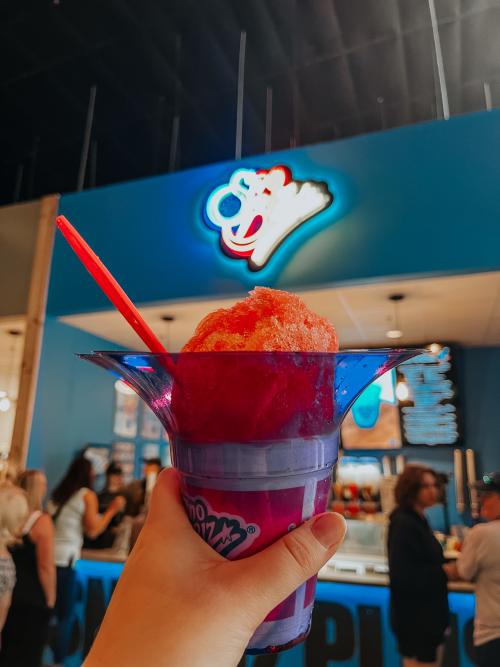 Ever since I was a child, the moment the weather started heating up, Sno Biz was the one place our family would head to. During this food journey, we saved Sno Biz for dessert and enjoyed classic strawberry shaved ice. At Sno Biz Plus, you can enjoy all their favorite shaved ice flavors, slushes, milkshakes and now ice cream. They have partnered with Ice Cream Factory and will have hand-dipped ice cream for everyone to enjoy. 
Lindsay's Kitchen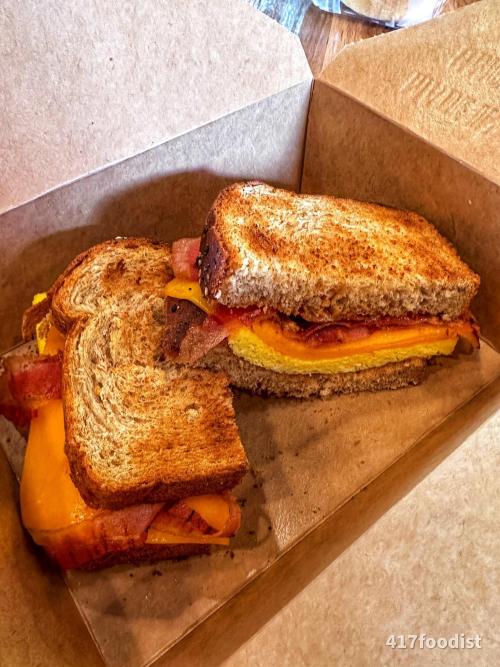 I have been a fan of Lindsay Kirtlan's tasty creations for quite a while now since she has been set up shop at the Famers Market of the Ozarks for well over a year. Lindsay's Kitchen was one of the first booths we visited. We started with one of their famous homemade cinnamon rolls, fresh out of the oven. If you have sweet, you must also have savory, and that's why we also tried one of their breakfast sandwiches named the garl. Honey wheat bread with bacon, egg, cheddar and peanut butter. Who knew that peanut butter paired so well with a bacon, egg, and cheese sandwich?
Fresh Poke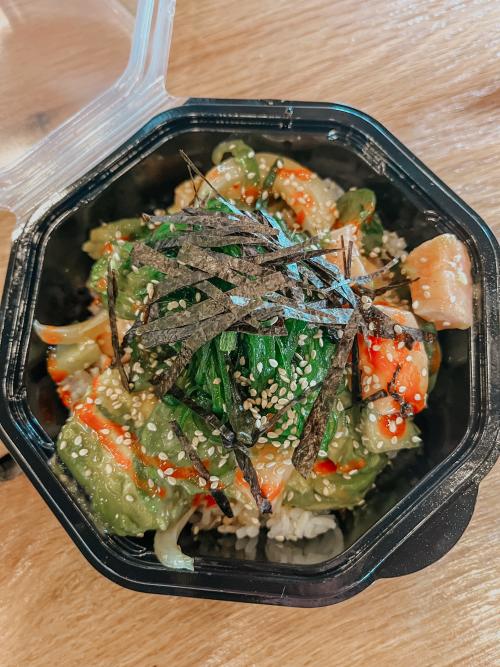 Cody Davis blew my mind with his creations from his past food truck Davalon. Now he is bringing a new concept to Nixa, Fresh Poke. Fresh Poke is serving handcrafted Hawaiian poke bowls that are filled with ahi tuna, spicy salmon, fresh veggies, white rice and an assortment of sauces. We tried the Hawaiian bowl with salmon, pineapple, tomatoes, cilantro, nori, seaweed salad, crispy onions, yum-yum sauce, and Thai chili sauce. The bowl was packed, yet the whole dish was light and fresh, with a hint of spiciness from the Thai chili sauce and fresh jalapenos.
Not'cho Ordinary Taco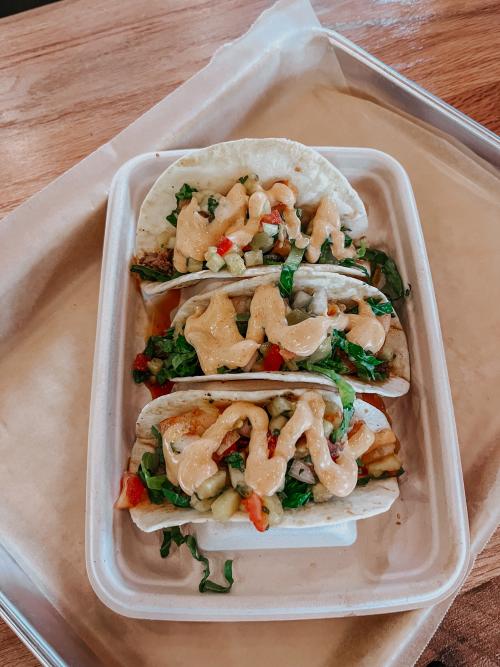 Casey McTavish and his crew bring ten years of experience to 14 Mill Market with their new Not'cho Ordinary Taco location. Famous for their parmesan-crusted tortillas, we had to order one of the most well-known tacos on the menu: the Hawaiian surf & turf tacos. These tacos are made with teriyaki steak and shrimp covered in Swiss cheese, lettuce, pineapple chutney, and a delicious spicy aioli; all served on a parmesan-crusted flour tortilla. The tacos came in a trio, and trust me when I say; there wasn't a morsel left on the plate. 
Queen City Soul Kitchen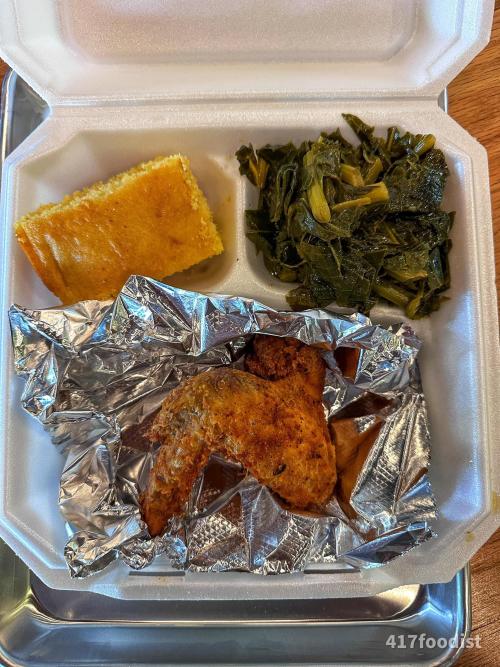 Soul food has arrived in Nixa! I have been driving from Ozark to the heart of Springfield to savor all the delicious foods from Queen City Soul Kitchen. Now I have a 10-minute drive, and I couldn't be happier. With a menu filled with southern fried chicken wings and meatloaf, you already know you'll need a nap after this meal. Some might even say you can make a meal from just the sides. Macaroni and cheese, collard greens, string beans and candied yams are all on the menu. You can order just the veggie plate with your choice of three sides. The fried wings came out piping hot, the collard greens were smokey and rich, and we had a side of cornbread for the perfect meal.
Liege Love Waffle Co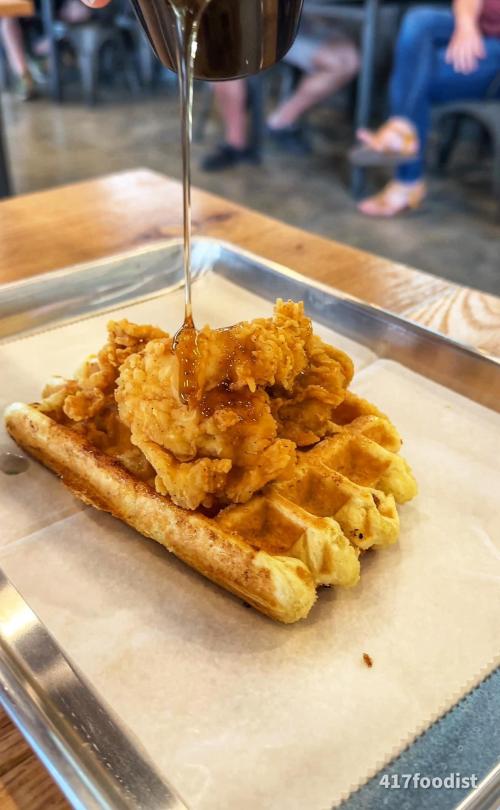 Waffles are perfect on their own but topped with a wide variety of sweet ingredients make them even better. Liege Love Waffle Co. serves waffles made from dough rather than a typical batter. They are topping them with raspberry cream, fresh fruit, Nutella, and other sweet ingredients. You can even get a Monte Cristo made with a waffle, smoked ham, turkey, Swiss cheese and homemade raspberry jam. We decided that the chicken and waffles were the must-try, and they didn't disappoint. The chicken was tender and crispy, and the waffle added great sweetness to each bite. Drizzle on some syrup for the perfect marriage of sweet and savory. 
MO Sliders Co.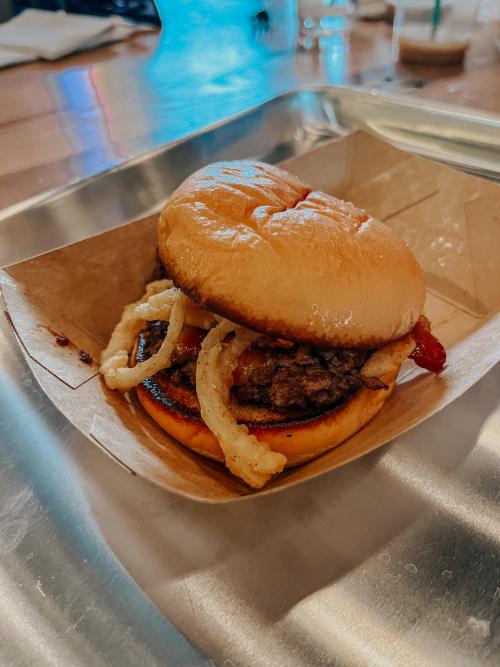 Beef and chicken sliders are what you will find at MO Sliders Co. Hand-held burgers topped with everything from grilled jalapenos and bacon jam to chicken sliders topped with homemade ranch or even chili. We ordered the Western BBQ beef sliders, topped with bacon, cheddar, BBQ sauce and hand-battered fried onions. These sliders might be tiny, but they pack a punch in the flavor department. You can also order some poutine made with savory gravy, cheese curds and green onions. 
Pie Paradiso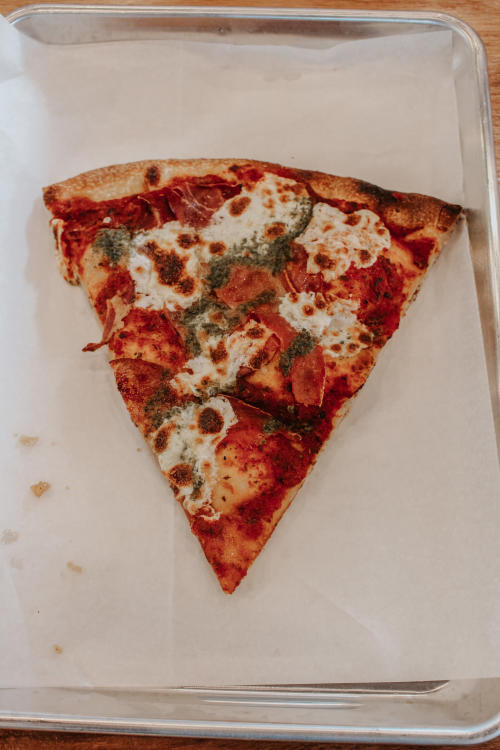 You can't have a food hall without a great pizza place. Pie Paradiso has brought their game to 14 Mill Market by serving pizza by the slice to the masses. From the minds that brought us D'Vine Deli in Springfield, the Gruenbergs are serving tasty pizza topped with melty cheeses, savory meats, and perfect sauces. The balboa pizza is a play on their sandwich of the same name, topped with fresh mozzarella, prosciutto, capicola, soppressata, roasted red pepper and basil pesto. We might have only tried one slice, but I could have eaten a whole pie of the balboa. 
Abby's Açaí Company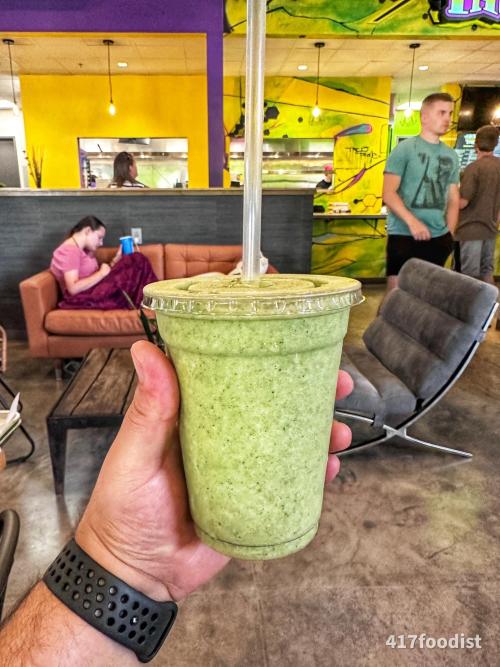 Smoothies, açaí, and oatmeal, oh my! What started as a food truck at the farmers market is now prepped and ready to serve the masses at 14 Mill Market. Abby's Açaí is known for its super delicious acai bowls, but there is so much more to enjoy. You can order some great smoothies or smoothie bowls. Stop in for breakfast and enjoy some tasty oatmeal as well. And, of course, açaí is on the menu, topped with fresh fruit, granola, coconut and a dollop of Nutella. We decided to try the smoothie menu and ordered the clean green smoothie. It's filled with spinach, pineapple, mango, coconut milk and agave blended perfectly and ready to enjoy.
D'Vine Delicatessen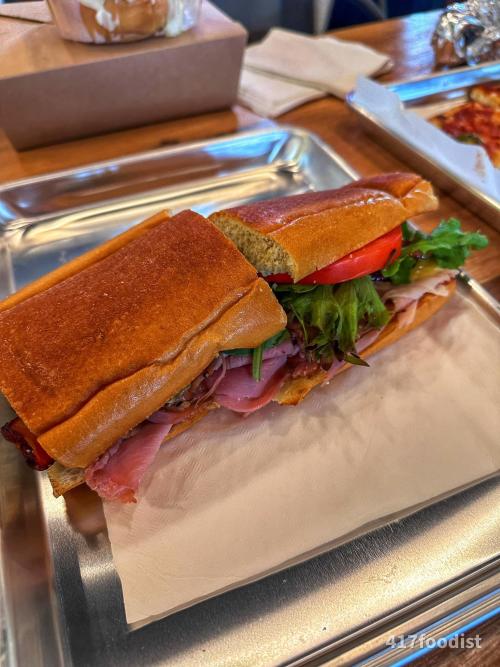 This is D'Vine's second location, and they are bringing a bunch of your favorites from their Springfield location to 14 Mill Market. You can order salads and sandwiches, or you can create your own charcuterie board to enjoy while you relax with a glass of wine. We had a huge sandwich filled with prosciutto and cheese and topped with lettuce and tomato, all wrapped up and ready to eat! 
Learn more about 14 Mill Market at 14millmarket.com.