If you want to see some fabulous fireworks displays, here's where you can watch them during Fourth of July celebrations and around the Ozarks this summer. Did we miss one? Email myohn@springfieldmo.org and we may add it to the list.
Fireworks At Hammons Field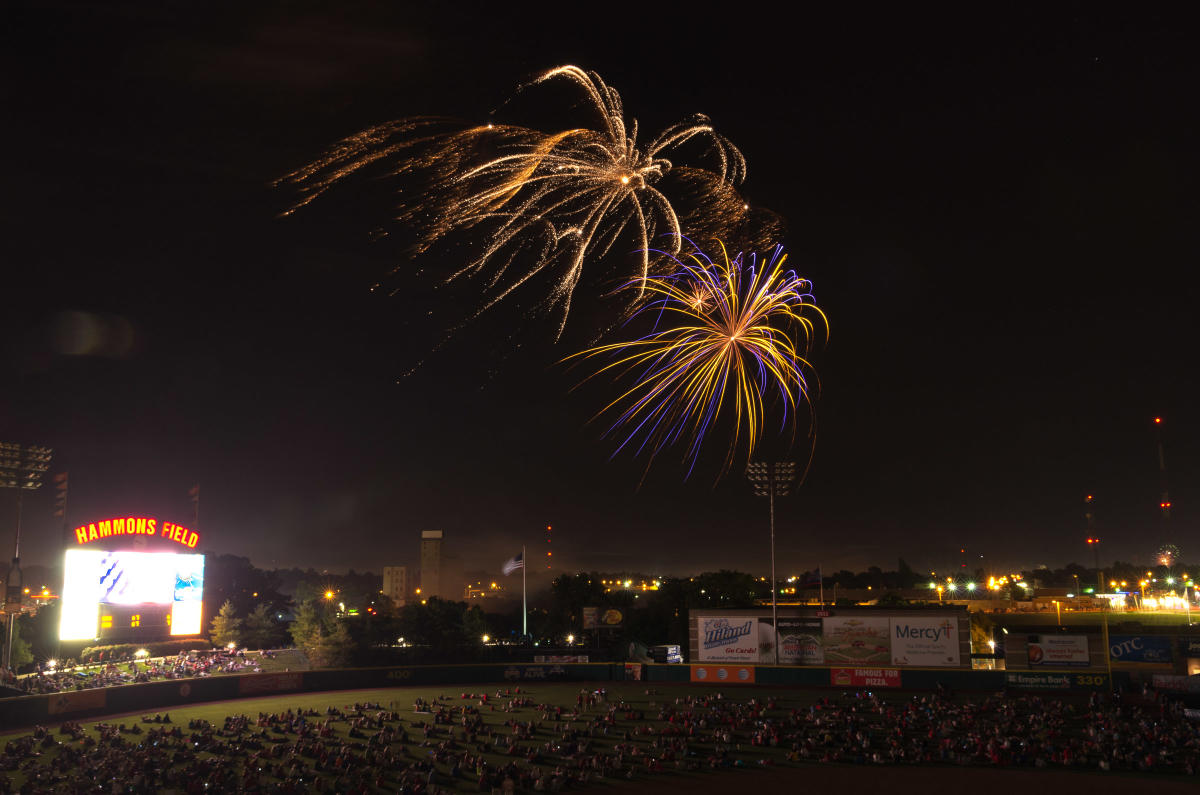 Fireworks are back at Hammons Field for 2023. Following the game, fans are allowed on the award-winning field for an impressive fireworks experience.
When: June 9, June 16, June 17, July 4, July 6, July 7, July 8, July 21, Aug. 4, Aug.11, Aug. 12, Aug. 23, Aug. 25, Sept. 7, Sept. 8, Sept. 9, Sept. 10.
Where: 955 E. Trafficway St., Springfield
Fireworks On The Finley
Enjoy a fireworks presentation at the Finley River Park presented by Appleby Healy Law and CCCC Sertoma after the Sertoma Duck Race Festival.
When: 10:15 p.m., June 17
Where: 891-961 N. Riverside Rd., Ozark
27th Annual Have-A-Blast Patriotic Celebration
Join the City of Republic to celebrate the 26th Annual Have-A-Blast Patriotic Celebration. The evening features excellent food and fun for the entire family, followed by a pyro-musical fireworks display.
When: 6-10:15 p.m., June 30
Where: 300 E. Hines St., Republic
Fireworks Over The Water And Duck Derby
Head to Pomme De Terre Lake for an evening of fun. Come see the Great Pomme de Terre Duck Derby at the dam spillway, where plastic ducks will be dropped in the spillway. While in the dam area, enjoy fare from a food truck and great music by The County Liners. Then stick around for the chamber's annual Fireworks Over the Water at dusk.
When: 4 p.m., July 1, 
Where: Pomme De Terre Lake Dam, Hermitage
Fireburst At Table Rock Lake
See brilliant fireworks over Table Rock Lake at Kimberling City. Fireburst is an over 30-year tradition at Table Rock Lake, sponsored by the Table Rock Lake Chamber of Commerce. Scheduled near the Kimberling City bridge, the display can be viewed by land or boat.
When: Dusk, July 2
Where: Kimberling Inn at Table Rock Resort, Missouri-13, Kimberling City
Branson Landing Liberty Light Up
This fireworks show is one you don't want to miss. Before the show, stop by the beer garden opening at 6:30 p.m. Enjoy a breathtakingly choreographed display and a night of live music featuring Damsel and The Dirty Saints.
When: 6:30 p.m., July 3
Where: 100 Branson Landing Blvd., Branson
Fireworks at Top of the Rock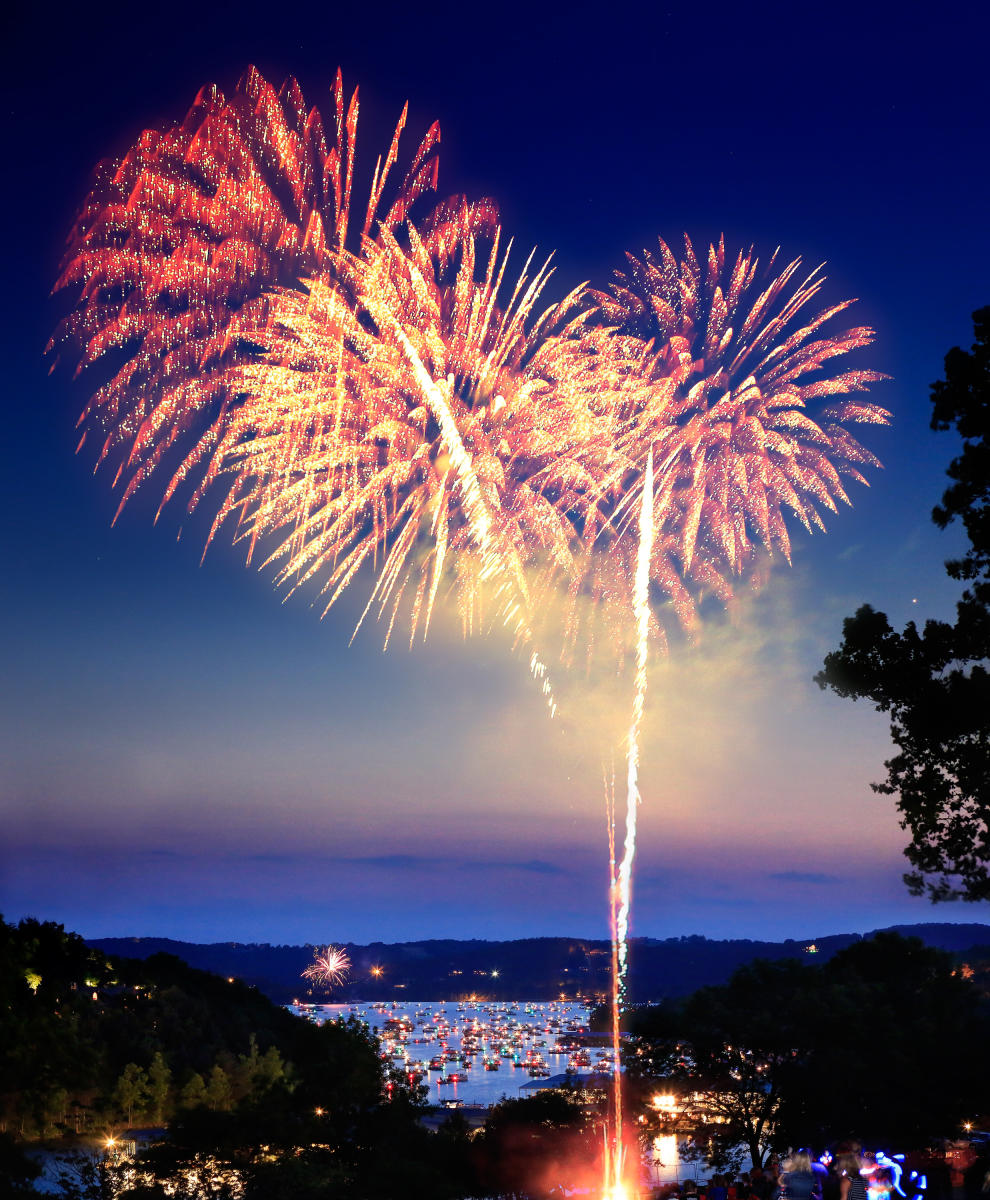 See Fourth of July fireworks at Top of the Rock this summer. Public entry is $25 per car starting at 4 p.m. At approximately 9:15 p.m., the display will begin.
When: July 4
Where: 150 Top of the Rock Road, Ridgedale
Lady Liberty Dinner Cruise & Fireworks
Dine on the water! Set sail aboard Lady Liberty for an elevated dining experience while enjoying the best sunset views of the Ozarks. Our custom-built yacht captures the beauty of the bygone era while employing the modern amenities of today. You'll set sail on Table Rock Lake on our 62′ luxury yacht while enjoying delicious food and unforgettable views.
When: 7:30-9:30 p.m., July 4
Where: 1368 Long Creek Road, Ridgedale
Celebration Of Freedom At Southwest Baptist University
Celebrate our country's freedom with a communitywide fireworks event at Southwest Baptist University. Enjoy food vendors, live music, veterans' recognition and a fireworks extravaganza that begins at dusk.
When: July 4
Where: 1600 University Ave., Bolivar
7C's Winery's Annual Beach Bash
Grab your flip-flops and flowered shirt and come sail away at 7C's Winery. Enjoy good wine, food and music and sway to the sounds of Rick Lamb from 5-8 p.m. Fireworks will start shortly after the last performance.
When: 5-8 p.m., July 9
Where: 502 E. 560th Road, Walnut Grove, MO
Summer Nights At Silver Dollar City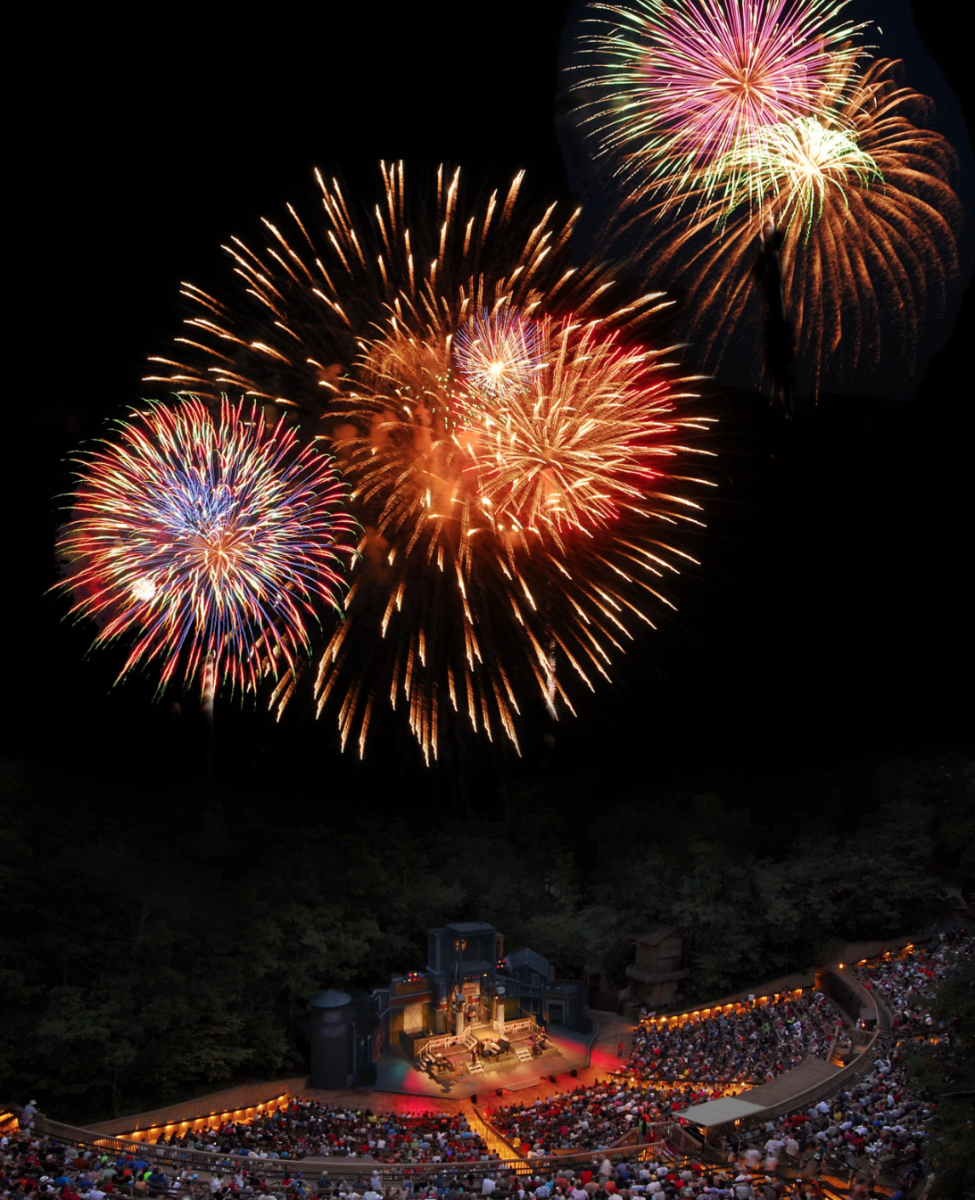 Enjoy over 12 hours of nonstop fun for 16 straight days during Summer Nights at Silver Dollar City. The theme park is open from 9:30 a.m. to 10 p.m., so ride all day and into the night with extended ride time on over 40 rides and attractions. Each evening ends with a spectacular fireworks show over the city.
When: July 15-July 30