Here's some fascinating information from Springfield-based H2R Market Research.

It has been nearly seven months that the United States has been battling the coronavirus pandemic, and while many things have changed in these past seven months there is also a lot that has stayed the same. The desire for life to return to normal has been one of those constants, as has the need for a change of scenery. And those sentiments continue to be the biggest motivators of travel.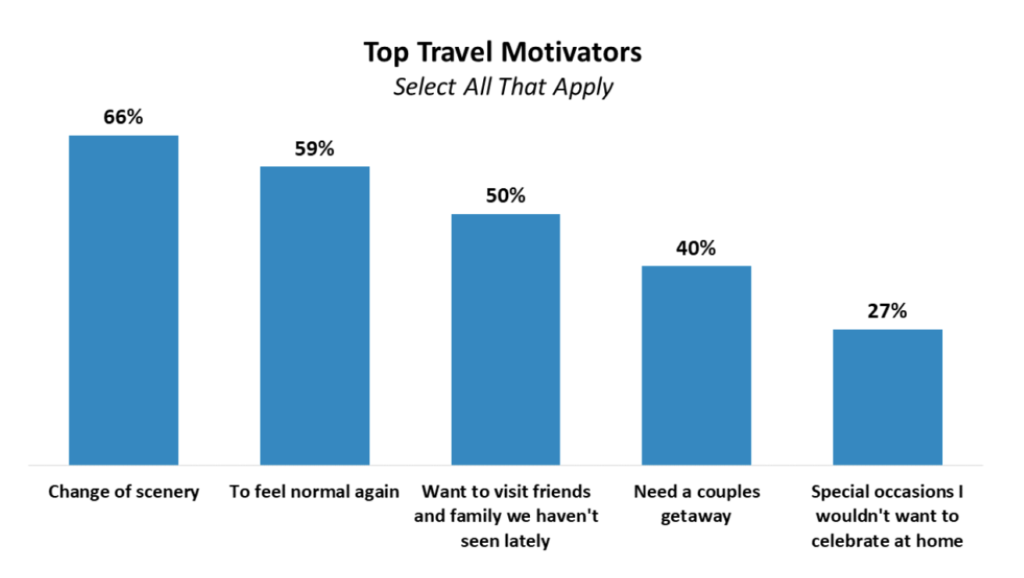 People need travel. It is not just a fantasy or a luxury, but it is a fundamental desire to most of our normal lives—the normalcy everyone is craving right now. Consumers also have an essential need for connectedness with one another. Linking these two basic needs together makes it come as little surprise that nearly six in ten consumers believe travel to visit friends and family will become the most popular type of travel in the coming years.
Consumers also expect outdoor destinations to become increasingly popular in the near future. Beaches and lakes, national and state parks and mountainous areas can all expect to recover a bit quicker than long-haul travel, meetings and conventions, group travel and visitation to big cities with large populations.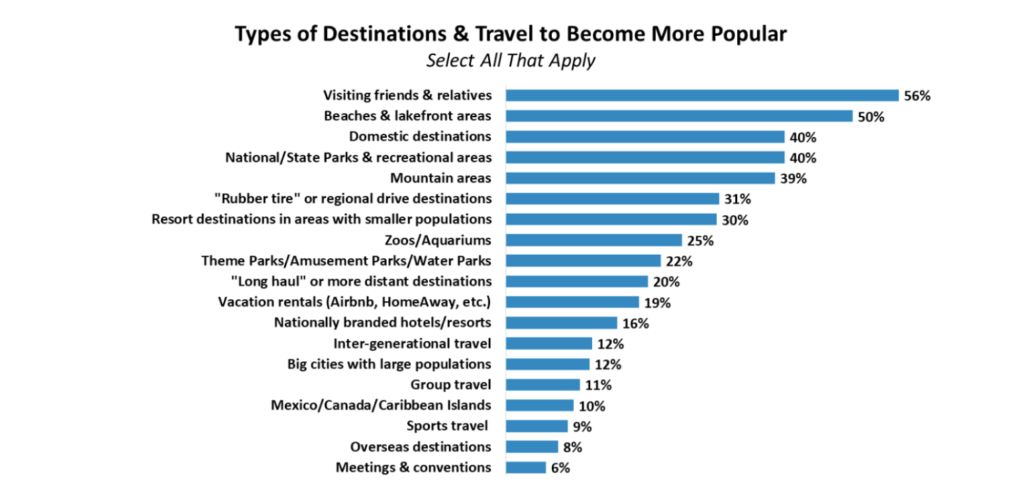 The types of lodging consumers are leaning toward are also shifting during these unusual times. Nationally branded hotels and resorts edge out vacation rentals like Airbnb, and rural or suburban areas are expected to be the trendy choice over the once-booming urban locations. And when staying overnight on a trip, consumers are most interested in having food and beverage options on-site, a pool and transparent cleaning protocols.
Early Adopters who have already ventured out and taken a leisure trip indicate they are most satisfied with the communication provided by the attraction or destination beforehand regarding what specific actions were being employed and how those additional safety precautions aligned with guest expectations. Strong communications upfront that transparently describe what measures have been put into place help consumers feel more at ease during their visit.
As time moves on, we continue to see an increase in the number of Early Adopters venturing out. This week, nearly one-quarter of consumers indicated they have ventured out by traveling for leisure or visiting an attraction of some sort (up 24% from mid-September). Early Adopters are critical to please as their experiences and social media narratives dictate how soon other travelers will follow their lead.
And the good news is, this week's COVID-19 Confidence Index improved for the third straight wave of findings, coming in at 43.6. Both of these increases are positive signs the country is beginning to head towards the "next normal."