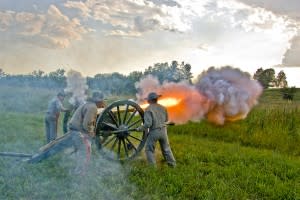 In the July/August edition of the AAA Midwest Traveler, a travel magazine for members of the AAA organization, Wilson's Creek National Battlefield was featured as the best Civil War Battlefield in the Midwest.  This edition of the magazine lists their picks for Best of the Midwest 2012, including the best attractions, restaurants and favorite getaways in the heartland.
"Wilson's Creek National Battlefield is an enlightening place to learn about the Civil War," Superintendent Ted Hillmer said. "We have the finest Civil War Library in the National Park Service, a pristine battlefield, and the most complete collection of artifacts, from the Trans-Mississippi theatre, for our visitors to experience. We also have beautiful natural scenes to complement the historic places here. Enjoy the woods and fields—and get some exercise—by walking, jogging, hiking, or horseback riding."
The park offers visitors miles of trails and natural beauty. The tree-lined banks of Wilson's Creek and the tall, buff-colored corn supply soothing vistas. These scenes, in which neutral tones dominate, get accents from the park's wildlife, which includes not only readily-camouflaged creatures like deer and bobcats but also colorful stand-outs like cardinals and Missouri bluebirds.
Administered by the National Park Service, Wilson's Creek National Battlefield preserves the site of the first major battle of the Civil War in the West, site where the first Union general was killed in the Civil War and evokes the rural character experienced by the combatants.  Wilson's Creek is located 10 miles southwest of Springfield, Missouri, at the intersection of Highway ZZ and Farm Road 182.  To receive more information call (417) 732-2662.