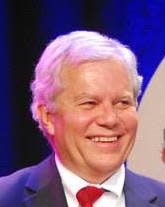 Springfield's longest-serving mayor, Tom Carlson, was named the 2014 Springfieldian at the Annual Meeting of the Springfield Area Chamber of Commerce Friday.
Carlson was elected as mayor in April 2001 and re-elected in April 2003, April 2005, and April 2007. Previously, he served as mayor from 1987-1993 and served on City Council 1983-1987 and again from 1997-2001.
His leadership during this time was instrumental in the creation and support of Springfield's Economic Development Partnership which now comprises the Chamber, Springfield Business Development Corporation, City Utilities, City of Springfield and Greene County. This partnership continues to have a direct impact on economic development and job creation in southwest Missouri and led to the creation of two partnership industrial centers.
"He had the discipline to focus on a small number of problems—economic development and quality of life were at the top of that list—and he understood that those two were intertwined," former City Manager Tom Finnie said.
A native of Springfield, Carlson and his wife, Chandler, have one son, Tommy, and a grandson, Channing. Carlson received his juris doctor from the University of Missouri at Kansas City in 1979, and a bachelor's in journalism from George Washington University in 1975.
For more than 50 years, the Chamber has honored an outstanding individual for a lifetime of leadership and commitment to our community. The Springfieldian is a citizen who has exemplified outstanding community service, excellence in his or her chosen profession and dedication to improving the quality of life for Springfield and its citizens.