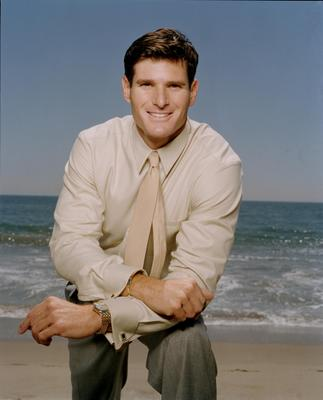 Cliff Meidl
Before Cliff Meidl became an Olympic athlete, a construction accident in 1986 nearly killed him and doctors wanted to amputate his legs.
Meidl survived the accident and the odds. His legs were saved and after numerous surgeries and nearly 10 years after the accident, he was competing at the 1996 Centennial Olympic Games in Atlanta, Georgia in the sport of Sprint Kayaking.
Meidl went on to compete in his second Olympics at the 2000 Sydney Olympic Games and received one of the highest honors as an Olympian when he was selected by his peers as Team USA Flag Bearer to carry the Unites States flag during the Opening Ceremony. Following the games, he received a number of honors including the "Arete Courage in Sports Award," the Philadelphia Sportswriters "Courage Award," the Los Angeles Marathon "Patsy Choco Award" and many more. He also was named one of the 20 all-time inspirational Olympians for the "Olympian Heroes Series," and continues to receive national and international media coverage through his spokesperson and motivational speaking events.
Meidl will add speaking in Springfield to his list of achievements when he does a presentation during the Missouri Common Ground Alliance 2015 Damage Prevention & Excavation Safety Summit Dec. 9-10 at Ozark Empire Fairgrounds.
"Most of my story is a human interest story and I speak a lot about overcoming adversity," Meidl said. "But my main message is worker safety and calling before you do any digging."
Anyone planning to dig for any project, in fact, should call 811 before shovel hits the dirt, he said. He'll also encourage attendees to develop the best possible safety culture in the workplace and for workers to be aware of their surroundings for their own safety and the safety of others.
"Our families are dependent on us coming home from work in the same condition we left in," he said. "It's about personal accountability."
Along with Meidl, several other speakers will do presentations at the summit and special guest Paul "Paulie" Teutul, Jr. will attend. Teutul is one of the stars of the reality television series "American Chopper." He co-founded Orange County Choppers with his father, Paul Teutul, Sr. in 1999 and is famous for his custom motorcycle fabrications, including the 811 Bike that will be featured at the event.
About 1,800 are expected to attend.
For more information, visit http://mocommonground.org/summit/ or call 573-636-1559. Information also is available at www.facebook.com/mocga.