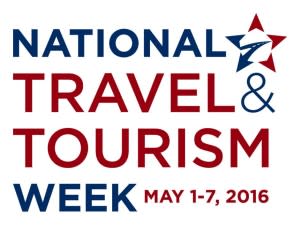 Mark your calendar for National Tourism Week May 1-7. Travel Rally Day is May 3 when organizations nationwide host local events that engage policymakers and business leaders and encourage media coverage of the power of travel.
The Convention & Visitors Bureau has plans in the works and encourages local tourism-related businesses to participate, too.
Resources, such as a sample blog post and press release, tweet sheet and downloadable graphics and logos are available in a toolkit from the U.S. Travel Association to help jumpstart your planning for May.
The theme of this year's NTTW is "Travel '16," a reflection of the U.S. Travel Association's goal to ensure that travel—and its positive impact on our lives—is part of the discussion during the 2016 election season.
NTTW is an annual tradition for the U.S. travel community, established by a congressional resolution in 1983 and first celebrated the following year. It's a time where travel and tourism professionals across the country unite to spotlight the unique value travel holds for our economy, business sector and personal well-being.