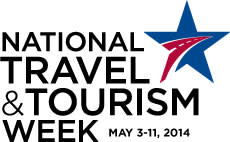 If you think you're noticing more out-of-town license plates in parking lots around the city, it's not your imagination.
May 3-11 is, after all, National Travel & Tourism Week, and visitors start flocking to the city this time of year after the Convention & Visitors Bureau begins its spring advertising campaign promoting Springfield as a travel destination.
The campaign, an annual CVB project, includes television, radio, online and print elements. The ads are designed to encourage visitors to "See You in the Middle of It All" by discovering what the community has to offer guests. The first elements of the campaign launched in January followed by a bigger push that began in April and will continue through June.
Early indications are that the campaign is effective. The ads call for people to visit the bureau's website and in March, unique visitors to the site totaled 96,515, a near record second only to April 2013 when 100,457 unique visits were recorded. The site averaged 74,634 unique visits per month last year.
The bureau is investing nearly $800,000 in the campaign because it generates travel to the city and boosts the local economy.
The 2013 campaign generated more than 97,000,000 impressions, 950,000 website visits and nearly 34,000 inquiries. A 2013 Conversion Study conducted by H2R Market Research shows that of those who inquired, the campaign generated more than 17,000 visiting parties with an estimated gross spend of more than $9.6 million in the community.
An estimated 3 million overnight visitors come to Springfield annually along with countless day trip visitors.
Last year was the second best year on record for the city's hotels and 2014 is starting off good. Compared to the same period last year, room demand increased 3.8 percent to 159,030 and room sales were up 7.9 percent to $11,186,630 through the end of February, the most recent statistics available.
The CVB is a nonprofit organization dedicated to boosting the local economy by promoting travel and tourism to Springfield. For more information, contact the CVB at 417-881-5300 or 800-678-8767 or visit www.SpringfieldMO.org.
National Travel & Tourism Week is May 3-11. Destinations throughout the country will participate in a variety of activities to showcase the importance of travel and tourism to the nation's economy.