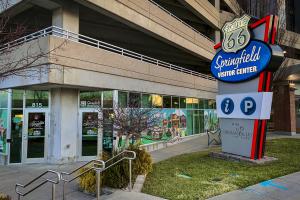 The Route 66 Springfield Visitor Center, 815 E. St. Louis St., is adding a day to its operating hours for the summer. 
Beginning May 29, the center that provides free information guides, brochures, maps, etc. will be open from 10 a.m. until 4 p.m. every Saturday until Labor Day. Normal operating hours -- 8:30 a.m.-4:30 p.m. Monday-Friday (except for holidays) -- will remain the same. 
The center, closed for several weeks during the pandemic to help prevent the spread of the COVID-19 virus, typically serves about 8,500 visitors annually.
The information center at Springfield-Branson National Airport will remain closed for the time being.
Both centers are operated by the Convention & Visitors Bureau, a nonprofit marketing organization dedicated to boosting the local economy through growth in travel and tourism to the area.