If you love seeing the leaves change around the Ozarks, check out some of these more unique methods and adventures to see fall colors besides hiking. Wondering when the leaves are changing in the area? Check the Missouri Department of Conservation fall color updates.
Kayaking/Canoeing The Ozarks
Take to the water to see some beautiful fall foliage around the Ozarks. Hop in a kayak or canoe and paddle down the James River or Lake Springfield to experience an up-close waterfront view of Springfield's changing leaves. Other great floating spots include:
Fellows Lake

Pomme De Terre Lake

Table Rock Lake

Lake Taneycomo

Stockton Lake
If you're looking for a more guided adventure, 37 North Expeditions offers several outdoor adventure tours throughout the year, from overnight backpacking to guided kayaking and paddleboarding tours.
Find The Grave Of Davis Tutt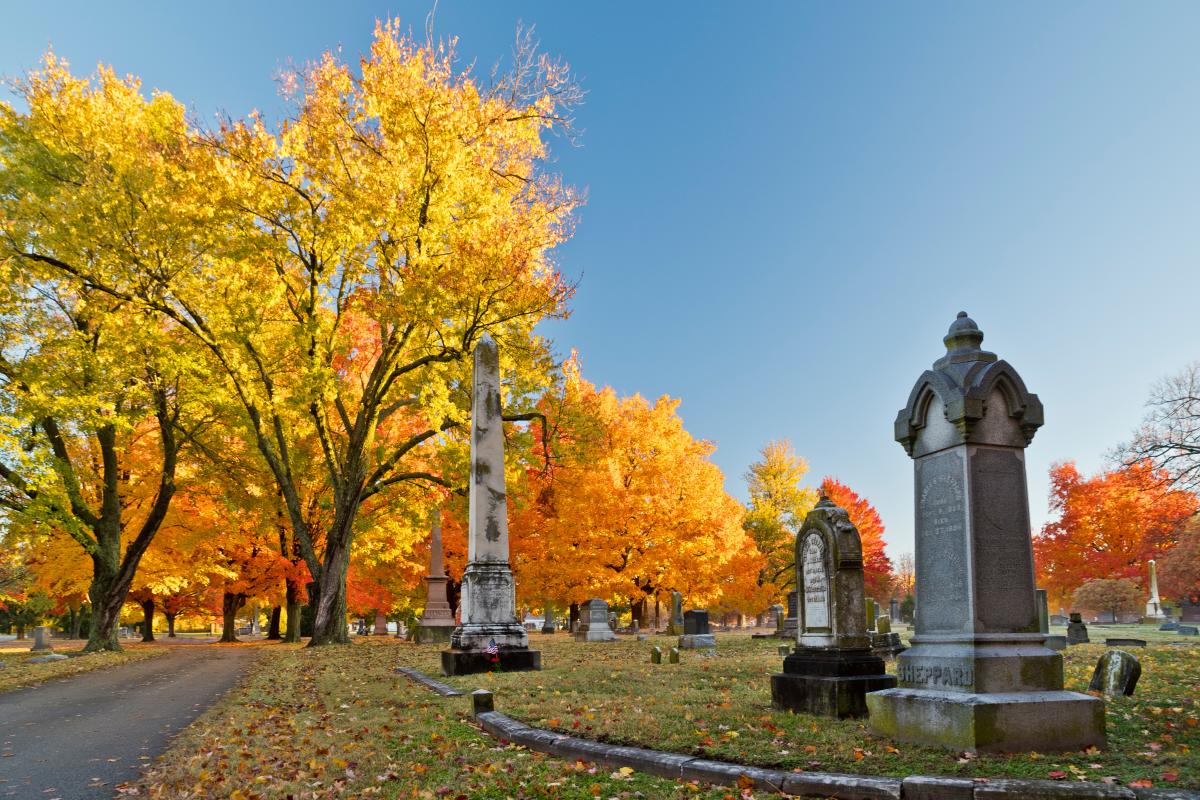 One of the most beautiful cemeteries in Springfield to see fall colors is Maple Park Cemetery. Many prominent figures are buried here, but one of the most notable is Davis Tutt. Tutt was killed by Wild Bill Hickok on the downtown square on July 21, 1865 in the first recorded wild west shootout. Search for his historic grave and take in the beauty of the fall colors.
Address: 300 W. Grand St., Springfield
Have A Picnic In Nathanael Greene/Close Memorial Park
Officially designated as an arboretum, the park and botanical garden make for a fantastic picnic view and an educational way to see how a variety of trees change in the fall. View this outdoor museum of trees by reading the signs placed on the trunks of each tree. For a complete map of all the trees in the park, check out this Springfield arboretum map as a guide.
Address: 2400 S. Scenic Ave., Springfield
Golfing Around The Ozarks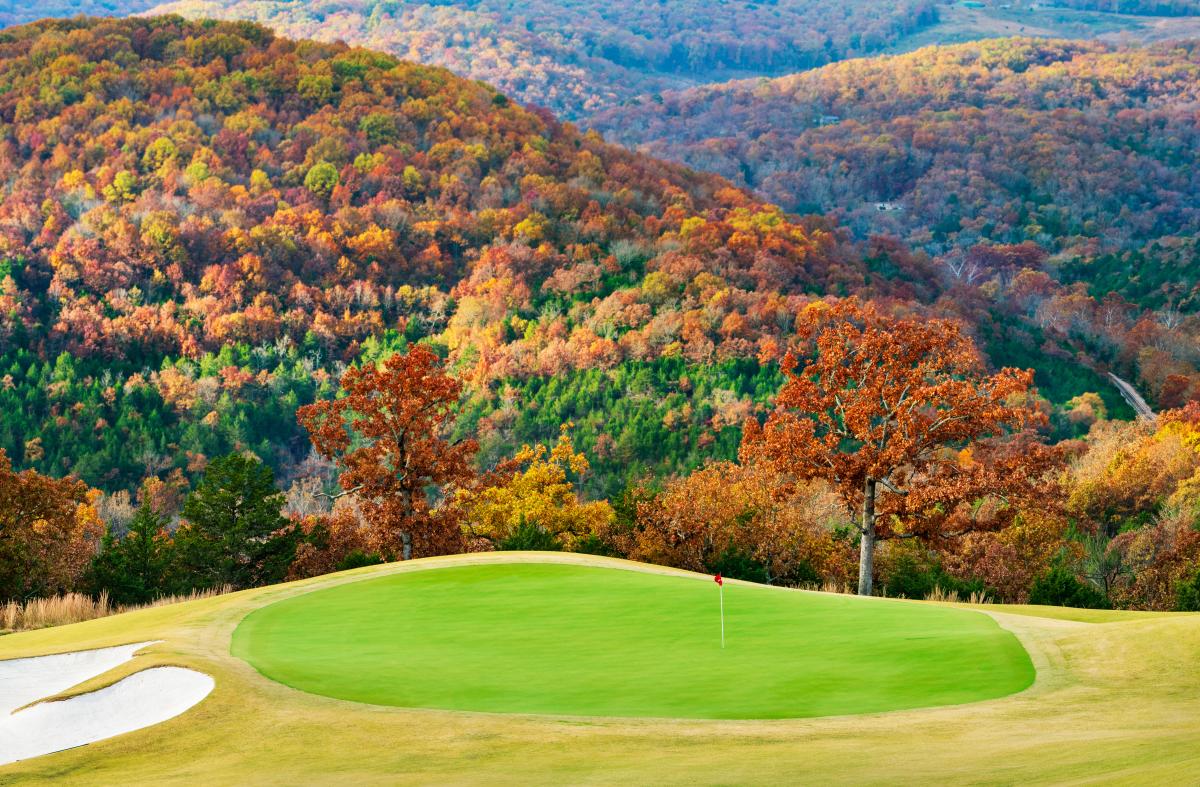 Photo courtesy of Top of the Rock
With a variety of courses for golfers of every experience level, the Ozarks makes for a must-visit golfing destination and a prime opportunity to see fall colors during the September and October months. Check out our full list of golf courses around Springfield and Branson.
Biking the Ozark Greenways
The Ozark Greenway trail system is made up of over 200+ miles of unique trails, many that can be used for biking. As the leaves turn brilliant shades of red, orange, and gold, the  come alive with the vibrant colors of autumn, offering cyclists a picturesque and invigorating ride through nature's stunning seasonal transformation. Bike your way through the beauty of the Ozarks with enough trails to last you the entire season. For a for list of trails, click here. 
Horseback Riding Tours At Dogwood Canyon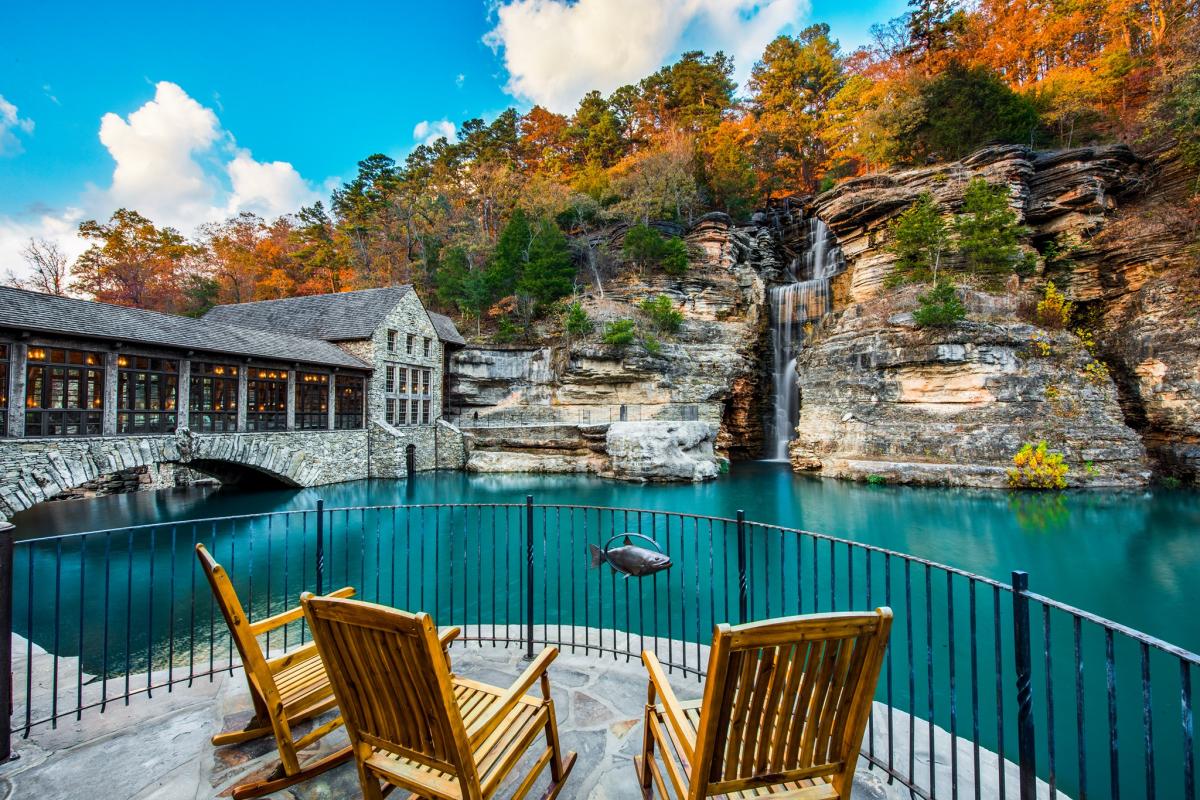 Photo courtesy of Dogwood Canyon
No matter your experience level, a one-hour ride at Dogwood Canyon is the perfect adventure to experience the outdoors and see some beautiful fall colors. You'll tag along on horseback as experienced wranglers guide you on a leisurely ride, exploring ridges, hollows, old logging roads and other scenic views. If horseback riding isn't your thing, Dogwood Canyon also offers tram, Segway and private Jeep tours.
Address: 2038 State Hwy 86, Lampe
Trout Fishing
Some of the Ozark's best fishing corners are nestled on the outskirts of the city, making them prime locations to catch trout between March-October. Throw out your line at some of these trout fishing spots around the Ozarks and take in some beautiful fall views while doing so:
Rockbridge Rainbow Trout & Game Ranch
Mountain Springs Trout Park
Crane Creek
Bennett Springs State Park
Roaring River State Park
Lake Taneycomo
Tram Tours At Lost Canyon Cave & Nature Trail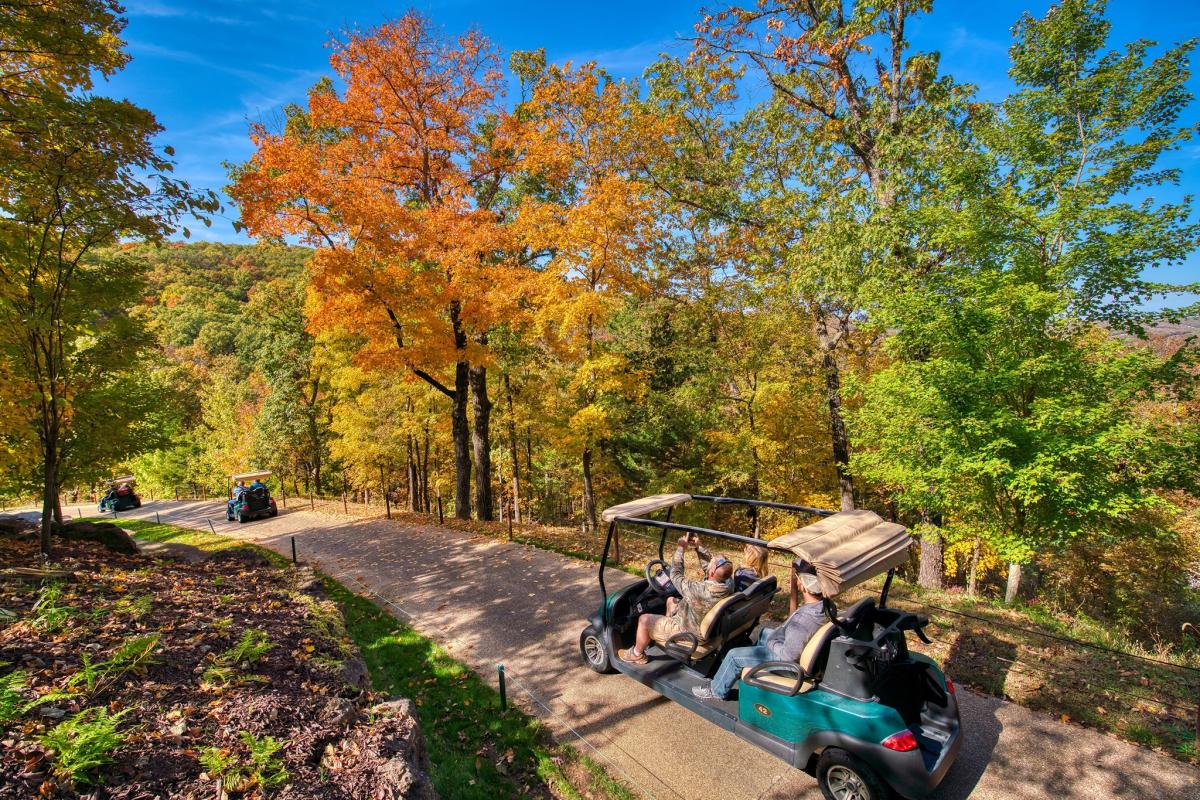 Photo courtesy of Top of the Rock
Experience the unforgettable two-and-a-half-mile journey on an electric cart as you explore the Top of the Rock Lost Canyon and Nature Trail. This trail was created to highlight stunning rock formations, waterfalls and views of Table Rock Lake. The tour is even more remarkable in the fall as the Ozark Mountains completely transform into a sunset of colors.
Address: 150 Top of the Rock Road, Ridgedale
Branson Zipline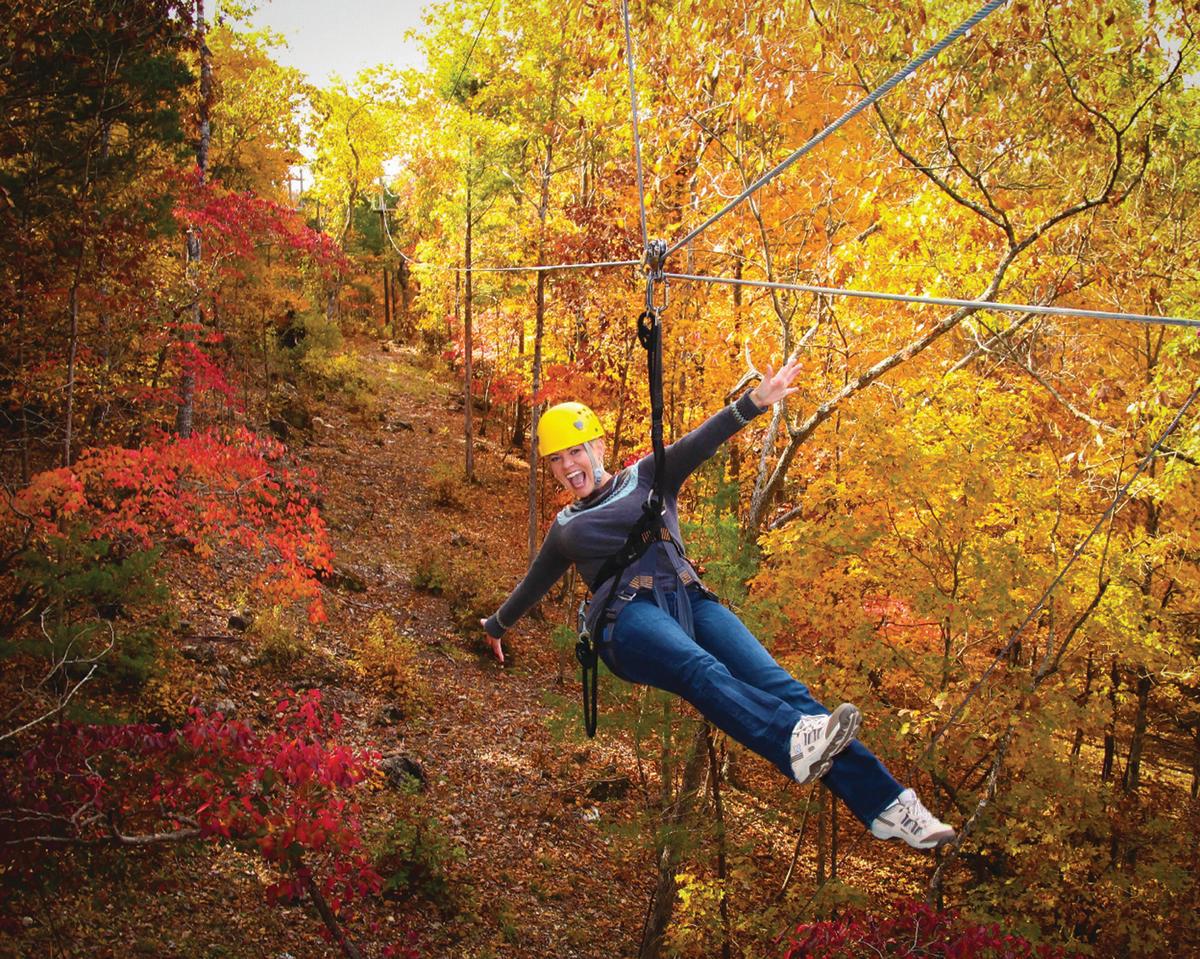 Photo courtesy of Branson Convention & Visitors Bureau
Take a zipline tour with Branson Zipline at Wolfe Mountain to fly through fall colors. Trek across swinging suspension bridges and soar through the canopy along numerous ziplines for a unique fall foliage tour.
Address: 2339 US-65, Walnut Shade
Ride The Branson Scenic Railway
Train rides are one of the most remarkable ways to see natural landscapes. The Branson Scenic Railway offers a one-hour, 45-minute trip that takes passengers through tunnels, trestles, and the southwest Missouri wilderness, making for some incredible fall views.
Address: 206 E. Main St., Branson
Take A Ride On A Mountain Coaster
Ride through the Ozark Mountains with several mountain coasters in the Branson area. Mountain coasters use the area's natural topography to have an exciting, user-controlled thrill ride that will lead you to some stunning Ozark views. Several you should try include:
Sky Diving At Ozarks Skydive Center
What better way to see fall colors in the Ozarks than from above? Book a skydiving excursion at the Ozarks Skydive Center through the autumn months to get a rare view not many people get to see. After your fall, be sure to stop into Hangar Kafe next door!
Address: 3103 Lawrence 1070 #2, Miller