There's a lot to do just northwest of Springfield.
Bolivar is a charming small town with a vibrant downtown area, a world-class art museum, a hospital and a four-year university offering a variety of degrees, including two doctoral programs. About 30 miles northwest of Springfield, Bolivar offers plenty for visitors to see and do. The historic Polk County Courthouse reigns on the town square surrounded by restaurants, stores selling jewelry, antiques, furniture, books and clothing, an art gallery, historic buildings and more.
A few blocks away, the Polk County Museum resides in the former Northward School, a majestic brick structure on the National Register of Historic Places. On the lawn sits a log cabin built in 1867 and moved to the museum grounds in 1981.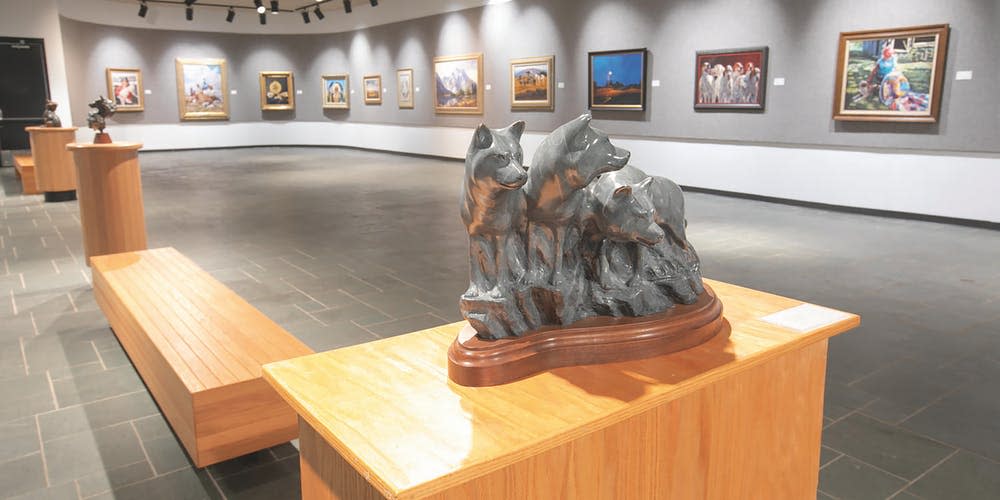 The Dunnegan Gallery or Art is home to a world-class collection.
Named for the mother of its two benefactors, the Ella Carothers Dunnegan Gallery of Art was started in 1983 by Thomas Hart Benton Dunnegan and John Dunnegan, brothers who ran the Polk County Bank back in the day. At any given time, the 26,000-square-foot gallery has more than 1,000 sculptures, paintings and woodcrafts on display. Many of the wood pieces are carved out of a single piece of wood. If you're looking for abstract art, you won't find any; the museum's artwork is known for its realism and depiction of actual landscapes and historical figures.
For those who enjoy outdoor activities, the Frisco Highline Trail - the second-longest Rail/Trail in Missouri - provides a 35-mile path for walking, running and biking between Springfield and Bolivar. Just a few minutes north of Bolivar, Stockton and Pomme de Terre lakes offer fishing, sailing and other water activities.
On the north side of Bolivar sits Dunnegan Memorial Park, a hidden gem in Polk County. It offers four pavilions with water and electricity, seasonal restrooms, play equipment, picnic tables, barbecue grills and pits, nature trails, horseshoe pits, washer toss pits and a small lake. The park is home to a variety of wildlife such as swans, peacocks, ducks and geese that roam seasonally.

Peacock at Dunnegan Park
In winter, attend the Light the Park event showcasing beautiful Christmas lights and displays beginning the evening after Thanksgiving through the end of December. The drive-through display is free with donations collected by local not-for-profit organizations each night at the park entrance. A trip to Bolivar also gives you a chance to test your skills at the Silo Ridge Golf Course; splash with the kids at the city's aquatics center, and shop for locally grown, made or produced foods and products at the Polk County Farmers Market.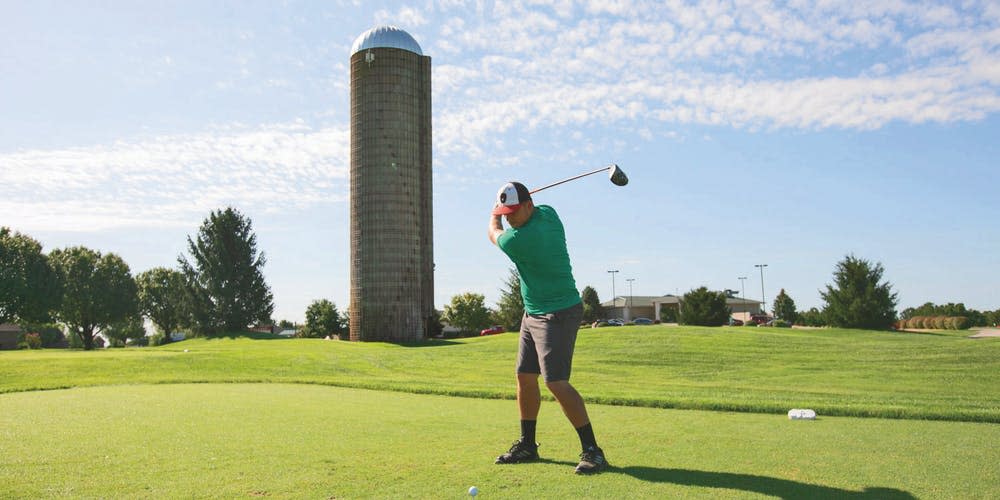 Teeing off in front of the silo at Silo Ridge Community Golf Course.
Annual events include the one-day Country Days festival in September and the Celebration of Freedom Fireworks Display at Southwest Baptist University in July. In May 2022, Bolivar will host the first week-long Missouri Beef Days festival, a celebration of the importance of all-things beef to local families and communities. The event will include local farm tours, speakers, an industry expo, parade, rodeo, concert and more.
In the fall, the kids will love the corn maze, pumpkin patch and other activities at the nearby Fieth Family Farm, and in the summertime, pick delicious blackberries and raspberries at the Hummingbird Berry Farm a few miles south of town.
You're sure to enjoy exploring Bolivar, the county seat of Polk County. Before you go, be sure to check the hours at the facilities. Some operate on a part-time basis or are seasonal. Learn more about Bolivar at Bolivar.mo.us or BolivarChamber.com.