Early morning fog floats gently above the surface of the James River, just south of Springfield, as paddlers begin sliding boats into the water. The sun cuts through trees bowing over from the banks of the river, providing the perfect backdrop for a day of floating and fun on an Ozarks river.
As paddlers float through the fog, the many colors of boats show a range of choices for the journey, including canoes, single- and double-person kayaks and paddleboards. This scene is typical on any one of the dozens of beautiful rivers and streams throughout the Ozarks mainly from late spring through early fall and, for some, during winter as well.
"I like to float when the leaves are off the trees and you can see what is along the river," said Marty Zerr, president of Ozark Mountain Paddlers. "A sunny day during the winter when you have the river to yourself and you see plenty of eagles is pretty hard to beat."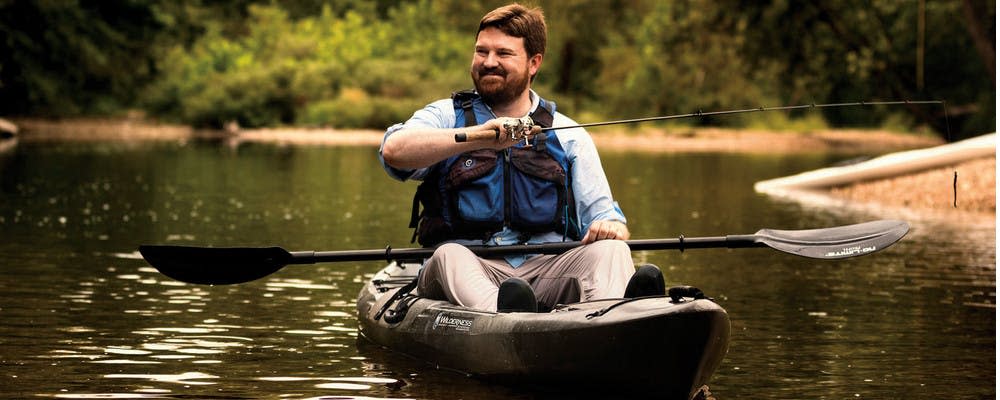 Zerr is passionate about what the Ozarks offers through its rivers and finds himself on the water whenever possible. He's not alone. Paddling has exploded in the Ozarks over the past decade, according to Zerr, and he says it's all about beauty and location.
"The number of great places to float within a couple hours' drive of Springfield gives you lots of choices," he said. "This area has a variety of beautiful rivers from slow, clear, spring-fed streams to fairly challenging white water when conditions are right. And the Niangua, Current and Spring rivers all have large springs that make it possible to float during the dry summer months."   
On summer afternoons, gravel bars on the James River become the perfect place for riverside picnics, swimming, fishing and taking in the beauty of the Ozarks. Celine Roberts has been floating rivers in the area her entire life and says there's nothing else like it.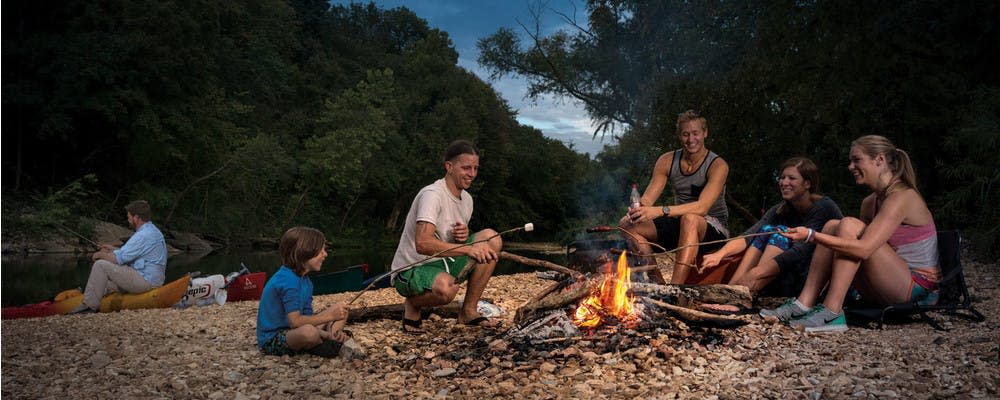 "It's a way to get away and escape for just awhile," she said. "I'll go with my husband and son and we'll spend all day on the river in our canoe and not have a care in the world. We'd be out there every day if we could."
Zerr points out that with the popularity of the Ozark National Scenic Riverways and the Buffalo National River in Arkansas — both a short drive from Springfield — the sport will only continue to grow in the region.
"The kayaks and stand-up paddleboards seem to be taking over," he added. "You can't drive the streets of Springfield without seeing a kayak on the roof of a car or in the back of a truck."
Where to Float
Whether you rent a vessel or paddle your own, these area waterways make great floats.
For a nearby float, paddle the pretty James River Water Trail between the Joe Crighton access and the Lake Springfield boathouse where you can rent canoes and kayaks.
South of Springfield, the James continues through Christian and Stone counties. A few access points between Delaware Town and Galena include Shelvin Rock, Hooten Town and Kerr. Or paddle the nearby Finley, a James River tributary, from Finley Park in Ozark or below the dam at Lindenlure Lake.
An hour's drive through beautiful rolling hills brings you to Bradleyville, a tiny town with a big stretch of spring-fed floatable water. Paddle five miles down from the bridge in Bradleyville for a nice three- to four-hour float, or take more time from Brownbranch when water is higher.
For wilderness floating through national parkland, head for the Current River and its largest tributary, the Jacks Fork. Tall bluffs, wooded shores, caves, and clear blue springs showcase Missouri's natural beauty in the designated Ozark National Scenic Riverways.
Get a two-fer when you float the easy Niangua which flows through Bennett Spring State Park, a great spot for anglers and campers. About an hour from Springfield, sections of this river attract Saturday social crowds; on weekdays and some upriver areas enjoy a more serene float. Multiple outfitters and the state park can help with rentals.
The North Fork flows through undeveloped land and along private properties and vacation rentals. Reached in two hours or less from Springfield, this river offers day floats with plenty of options for staying overnight.
Float year round on the wild, beautiful Eleven Point when you put in below Greer Spring, the second largest spring in Missouri. Upper areas are floatable during seasons with more rain.
About two hours away in western Missouri, the Elk River offers a laid-back experience for novice and experienced floaters. The river flows along high bluffs and has plenty of gravel bars. Like the Niangua, summer Saturdays are crowded and social.
The Big Piney near Licking is a slow and easy float, perfect for anglers, families, and beginners. It flows into the Gasconade River, one of the most crooked rivers in the world, according to the Missouri Department of Conservation.
The wild Buffalo National River in Arkansas flows freely for about 135 miles. The first U.S. river to earn a "national" designation, it's about two hours from Springfield and a favorite float for many. A wonderful upper stretch is noted for beautiful tall bluffs, lush foliage and fun fast water between the low-water bridge in Ponca and Kyles Landing. Outfitters often launch from Steel Creek Campground. The upper Buffalo floating season is limited; try the lower Buffalo during dryer times of year.
Outfitters
Outfitters serving area rivers are numerous. A few, listed below, can get you started. Other floating resources include:
Missouri Canoe & Floaters Association
Missouri Department of Conservation
National Park Service
Ozark Mountain Paddlers
James River & Lake Springfield
Lake Springfield Boathouse
James River
Hootontown
Y Bridge
Beaver Creek
Current River & Jacks Fork
Jadwin
Silver Arrow
Akers Ferry
Current River
Carr's Canoe
Harvey's Alley Spring
Circle B
Windy's
Two Rivers
Eminence
Jacks Fork
Niangua River
Bennett Spring State Park
Niangua River Oasis (NRO)
Maggard
North Fork of the White River